I know I've said it before, but I'm going to say it again. I talk to tons of ecommerce entrepreneurs a year and inventory is always one of the top questions. That's because inventory for ecommerce can be a little trickier than it is for brick-and-mortar stores. So, let's go over how to avoid getting stuck in the hamster wheel of inventory.
Your Margins Are Good
You figured out your top seller and now all you have to do is order more inventory and promote, promote, promote. Depending on demand and the fact that your business is new, it's possible you'll look to more nontraditional lenders, under the impression that you can afford them because of your margins. However, you're forgetting to consider one crucial element: cash flow.
The Nontraditional Lender
Consider this: Nontraditional lenders who aren't worried about young and/or ecommerce businesses tend to also have nontraditional payback structures. I've seen some that require full payments within 60 days, and some who charge an upfront fee and will take a percentage of your sales straight from the selling platform. This allows them to take the risk on your business because they get paid before you do.
As the lenders take their payment from the top, which is usually as much as 20%, you're losing your ability to be flexible with your payments. Your margins may show that you can take it, but it creates a disadvantage for you when you want to set aside funds for an inventory order. The analogy of this "hamster wheel" comes from my own clients who have struggled to get off the wheel themselves. You are often left with no choice but to borrow from the lender again to purchase inventory, leaving your will spinning out of control.
Stop the Spinning
You can get your proverbial wheel to stop, however. It just takes a little time and planning to free yourself. The first step is doing your homework on other credit options. It's possible that your bank provides lines of credit, or you might find a traditional loan offer with more palatable payment terms. Credit cards offering 6 months of no interest can even work in this instance. The idea is just to get back in the driver's seat. Take the wheel, don't keep running in it.
Then it's time to plan for your growth. Do some forecasting and determine how much can be held out for inventory from now on. Talk with suppliers and determine what options you might have for minimum order quantities or adjustable terms.
Perhaps the most important factor is remembering to pay yourself! If the plan you've developed can't cover your pay, profit, and taxes, this is a cash-eating monster that you will grow to hate. You've probably heard me say this as well, but profit is a habit. You can control your growth rate based on your debt tolerance and what you can afford. If borrowing money for speedy growth causes too much stress, the price is just too high and you may need to set your sights on a slower, less stressful growth rate.
If you need help with inventory planning, cash flow planning, or even just setting your goals for growth, we can help! Reach out to the bookskeep team and get started growing today!
Interested in Profit First?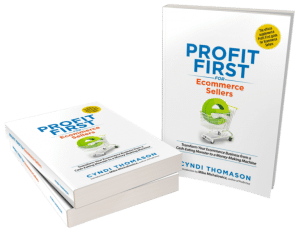 If your ecommerce business isn't where you'd like it to be in terms of profitability, check out my book, Profit First for Ecommerce Sellers. It answers important questions about how to implement Profit First in an ecommerce business. Take control of your money and your business, and put Profit First to work for you!
You can also sign up for the Profit First for Ecommerce Sellers Online Course. As a Mastery Level, Certified Profit First Professional, I will teach you why Profit First works so well for ecommerce businesses and the particular challenges for businesses that have physical products requiring inventory management. You will learn how your behavior drives your money management habits for your business and how you can set up your business bank accounts to work with your habits.
Check out all our ecommerce accounting and profit advising services here!
Do you know about Cyndi's new book?
Motherhood, Apple Pie, and all that Happy Horseshit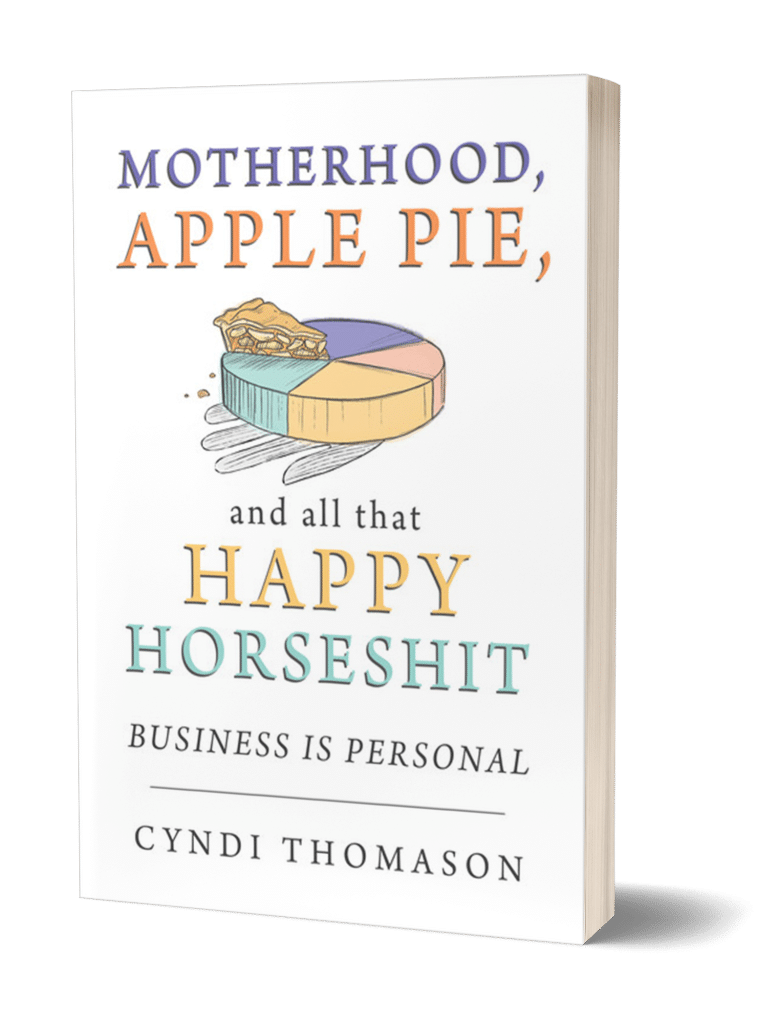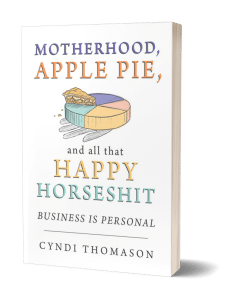 "You're about to discover the recipe for successful momma entrepreneurs."
– Mike Michalowicz, author of Profit First (and a wannabe momma entrepreneur)
Business is Personal
As a Mom, you can have it all and it's better when you do. Using your personal values to create the business of your dreams. By the end of this book you'll be confident in designing a business that supports your family and yourself.  Order Now!