Are you receiving all the money owed to you by Amazon? How can you ensure that you are? In last week's blog, we learned from Yoni Mazor of GETIDA about collecting FBA Reimbursements. This week, we're going to share two stories of how we have found money for clients. In one case, we were able to identify fees that were no longer relevant; and for the second case, we found unclaimed funds. We'll dive into each one so you can use these examples to monitor your own Amazon accounts. bookskeep is here to help with any amazon accounting questions you may have.
Other Fees
We recently worked with a client that is selling approximately $125,000 a month on Amazon, and some time ago he decided to subscribe to Amazon's Strategic Account Services. This program costs $1,600 a month and 3% of sales. Early on, because our client's sales were lower, it was a reasonable cost at about $2,000 a month and the representative was really helpful. The situation changed over time as the client increased sales.
During our onboarding call with the client, we realized that his other fees were very large compared to our other clients. We asked the client what made up these fees and through that discussion, he realized that the current fee was running about $5,000 a month. In addition, the client was not really using the service as the latest representative was not effective. Over the two years that the client was in the program, he had worked with five reps. None of these representatives added $60,000 in value to the relationship. Canceling this service as an easy way to add $5,000 a month to the bottom line. 
Amazon Pay
Most of our clients sell on multiple platforms, and many use Amazon Pay as a merchant processor on another platform. When we gain access to our clients' Amazon Seller Central accounts, if they also have an Amazon Pay account, we can view it as well. Because we have experience with this service, we always check to ensure we can pull the reports we need to report Amazon Pay correctly.
Recently, when working with two new clients, we verified the reporting and found an issue in both of their accounts. When our bookkeeper logged into Amazon Pay, she found a warning on these accounts. The warning showed that the clients had failed to connect their bank accounts to this platform. When we talked with the clients, they reported that connecting their bank account in Seller Central was all that was needed. For one client the funds had been accumulating for nearly four years and totaled $97,000. The other client was due $20,000. She shared that her husband was recently laid off and these funds were coming at the perfect time. If you're using Amazon Pay, take a minute to log into your account to ensure you are receiving the funds from this service directly. They are not included in your payouts and settlement reports from Seller Central.
As you can see, making sure you are getting value and receiving your money can have a substantial impact on your bottom line. When you work with experts in the ecommerce field, like our Amazon bookkeepers at bookskeep and GETIDA, you can be sure that we want you to get all of your money.
Don't miss out! Tomorrow, March 10th and Wednesday, March 17th, GETIDA and bookskeep have joined forces to present back-to-back webinars on a topic I know interests all ecommerce business owners–Profits! We invite you to join us for these these informative sessions that are sure to help you identify and recover more of your FBA reimbursements from Amazon. We invite you to register now for both webinars and join us. It's going to be a game-changer!
Interested in Profit First for Ecommerce Bookkeeping?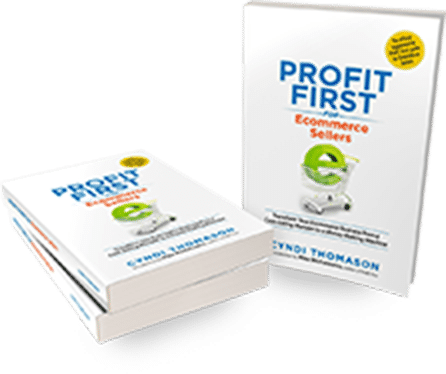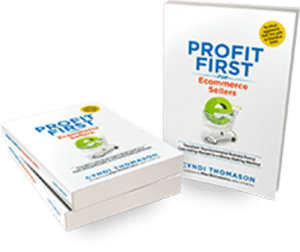 If your ecommerce business isn't where you'd like it to be in terms of profitability, check out my book, Profit First for Ecommerce Sellers. It answers important questions about how to implement Profit First in an ecommerce business. Take control of your money and your business, and put Profit First to work for you!
You can also sign up for the Profit First for Ecommerce Sellers Online Course. As a Mastery Level, Certified Profit First Professional, I will teach you why Profit First works so well for ecommerce businesses and the particular challenges for businesses that have physical products requiring inventory management. You will learn how your behavior drives your money management habits for your business and how you can set up your business bank accounts to work with your habits. Contact bookskeep today for more information on bookkeeping and accounting for ecommerce and Amazon sellers.