After attending ProfitCon 2016, the conference focused on Profits, I've had time to reflect on all the activities. It's not about greed; rather, we recognize that small businesses drive our economy, yet 80% of them fail within 5 years. As Profit First Professionals, our mission is to eradicate entrepreneurial poverty by empowering others to understand the financial aspect of their business, enabling them to achieve profitability and pay themselves.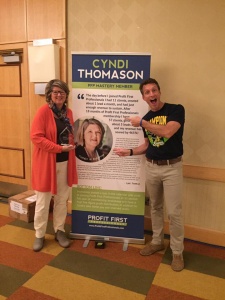 At bookskeep we take this mission seriously and I attended ProfitCon to learn the latest thinking from the author of Profit First, Mike Michalowicz. Mike has become a mentor to me over the past year and I have learned so much and my business as grown a result. At the end of the event Mike recognized 5 individuals for their participation in Profit First Professionals. Those recognized for awards in specific categories include:
Member of the Year – Cyndi Thomason

Top Contributor of the Year – Billie Anne Grigg

The Big Giver of the Year – Lynn Mattice

Marketer of the Year – Jon Neal

Rookie of the Year – Femke Hogema
I'm honored to be selected as this year's Profit First Professional's Member of the Year. Being a part of this organization, learning from its members and the headquarters team, is truly rewarding. Being recognized with this award is touching, as I hold everyone in high regard. I look forward to continuing to work with this group and fighting entrepreneurial poverty together on the front lines!