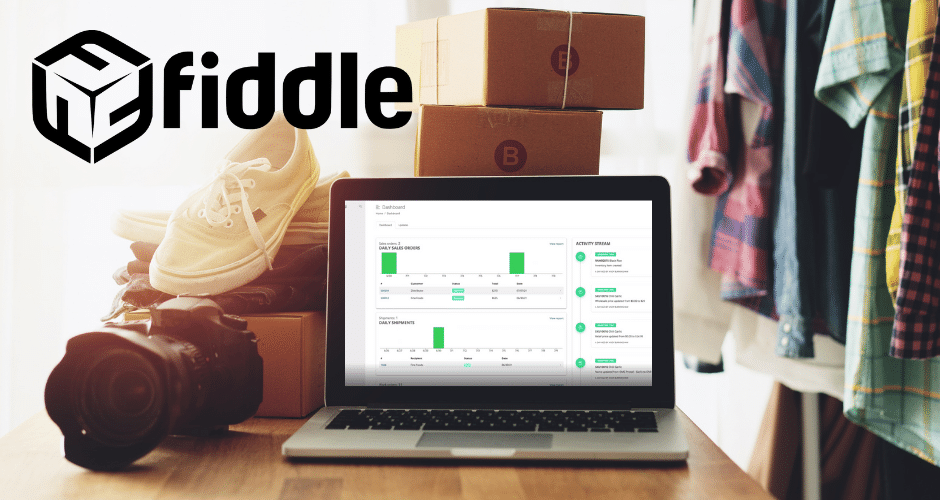 I recently invited our friend, Taylor Howe at Fiddle.io to share a little about Fiddle, the online platform for managing inventory, sales, sourcing, and manufacturing. Here's what he had to say about this dynamic program!
Why Fiddle?
 Physical product brands, at their core, need to be excellent at producing incredible products that their customers love.
Without that foundation of amazing products, all the pretty design, persuasive marketing, and strong social media presence doesn't make a difference.
However, creating products means managing inventory. Since you're reading the bookskeep blog, you now know how important it is to accurately track all the numbers that go into your inventory and your entire business in general.
At any given time, you'll want to know:
1 – Inventory levels of your raw goods – This goes for inventory stored in your own facility, at your co-packer, or another 3PL.
2 – Order statuses – A new order just came in from a retailer and a marketplace. Do you have enough finished goods to fulfill the orders? If not, do you have enough raw goods across locations to produce the finished goods you need?
3 – Production lead times – When will your co-packer start the production run? How long will it take? Do you need to source more raw goods before they can start?
With so many moving pieces, it's easy for bottlenecks to occur. And that quickly leads to friction within your business, delays in production and, ultimately, a reduction in sales. Nobody wants that!
Luckily, there's a much better way to do things. Here are a few key areas to analyze when looking for ways to improve upon your operations.
Production. This includes product costing, purchase order tracking, production runs, and supplier and co-packer management. Do you know all the fees that come into play when developing your product? What fees are you racking up from your various suppliers? It's important to ensure that you are tracking every fee that comes into play. Everything from shipping, freight, storage and even pallet fees will affect the results of your true margins.
Inventory Tracking. Like we discussed above, this means tracking your finished goods, SKUs, AND raw materials. Do you have aspirations to land a big box store? Then you'll need to provide traceability or batch records. Stores like Costco, WalMart, Target, and others will all require that for compliance.
Sales. As soon as you begin adding sales channels like Shopify, retail stores, marketplaces, and others, make sure you account for the various fees of each channel. Doing so will allow you to know your true profit margins. Knowing these profit margins will then help you determine whether the channel(s) are beneficial or detrimental to your growth.
Fulfillment. This means knowing the exact amount of finished goods you have on hand and knowing your consumption rates. That way, you'll know when it's time to place a PO for a production run with your co-packer, how much you need to order with that co-packer, and whether you need to source any more raw materials to send them for the production run.
Summary
Constant involvement in your business and its operations is crucial. However, if you are a small team, this can be difficult. Now that you've made improvements in your processes, how do you ensure success? Some key elements to success include:
Track inventory at all levels so you know your reorder points
Track orders and margins to understand your next production run
Track lead times for all your vendors – ingredients, packaging, copacker, etc.
Get accurate inventory from your partners or track it yourself
Understand COGS which include landed costs and all fees
Add compliance and recall functionality which are key to landing big accounts like Costco
An open line of communication with your partners will be important as you scale your business. If you're like most CPG brands, you probably already do most of this tracking in Excel or Google Sheets. And that's how it should be when you're getting started and bootstrapping your business. Eventually, spreadsheets become a nightmare to maintain and update. Besides the frustration that causes, it also costs you money and peace of mind!
That's why at Fiddle, we want to help you streamline your inventory operations so you always have amazing products on-hand to delight your customers.
Think of Fiddle as your "operations hub." The place where you can manage the process of making your products, track activity from all of your sales channels, and track your supplies across all levels of production.
Most brands inherently know how important this is and use spreadsheets to do it for as long as possible. We're big fans of spreadsheets ourselves and use them a lot, too! But unless you're an Excel ninja and love spending time in those cells and columns, switching to an inventory management software probably makes sense for you at some point.
Check out our home page or schedule a product demo to learn how we can help your brand scale!
And throughout this month, if you schedule a demo with us, we'll send you $50 Amazon gift card afterward the call as a special thank you!
Want to book an appointment? Contact us now!