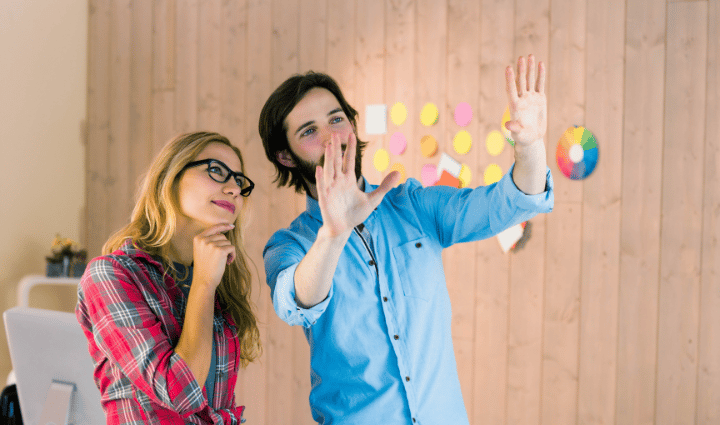 I'm attending a friend's wedding this week, and it has me reflecting on ceremonies and all the opportunities that lay in the future of the bride and groom. I started thinking on everything that awaits them and the intentions that are shared during wedding vows.
It hit me that most of our important life events are celebrated with a ceremony. Graduations, birthdays, anniversaries, all of these things are celebrated with a ceremony of some sort. So why would starting a business be any different?
There should be a ceremony when we start our businesses celebrate this new beginning and confirm our promises and our commitment to our family and the people involved in our business. This would help us dedicate time to be intentional about our goals. Making the statement publicly is also a great way to keep us accountable and focused on our progress throughout our journey as business owners.
What Does Your Vision Look Like
We all know that Q4 is the busiest time for us as ecommerce business owners. With supply chain issues, Amazon rules, and tons of other little details to work out, it never seems like there's enough time in the day. However, it's still important to take a second and think about why you started your business in the first place.
The vision for your business should always be your main focus. This is important because we can easily forget why we're working hard and what's important to our success. Having a vision is going to help you analyze your projects and figure out which pieces fit with that vision and which ones don't.
If you get too caught up in the busy work, your progress will slow. If you start feeling stuck, burnout will shortly follow. A business owner experiencing these feelings of overwhelm is not very helpful to a business, a family, or themselves.
Take Action and Move Forward
If there is no set vision for you and your business, I suggest you take at least 15 minutes today, sit somewhere quiet, and consider the question, "Why did I start my business and what do I want it to look like in one year? What will that look like for me, my family, my team?" Then come up with one thing you're going to do today that can put this vision into effect.
This one thing could be taking the time to take your child to school instead of them riding the bus, because you created your business to have more time with your family. Whatever it is, the point is being intentional and making a move. Take small steps that will work towards putting you back in touch with the reason for your hard work.
If you already have a vision for the business, go even further and figure out the gap between where you currently are and where you really want to be. It could be hiring an assistant because you need more time for strategic work, or cutting out unnecessary operating expenses that can give you more of a cushion for the business.
No matter what point you're at in your business, committing to taking the right steps to improve your business and your life for you and your family every day is important. One of the tactics I use for sticking to this commitment myself is adding the steps to my calendar every day and knocking them out first, but the other tasks that will take up more of my time. If you also stick to the steps every day, you will quickly see the daily improvement that begins to add up and make your weeks and life better.
What's More Important?
Of course, as the owner of a bookkeeping firm, I can't leave out the importance of good money management, and it is a great goal to set. However, time is really what you are spending every day, not money. If your time isn't being used to achieve those goals that are important to you, then no amount of money can get you to where you want to be.
Whether you need help with making a plan or managing the financials for your business, bookskeep has what you need. Reach out to the team today and see how we can help you!
Interested in Profit First?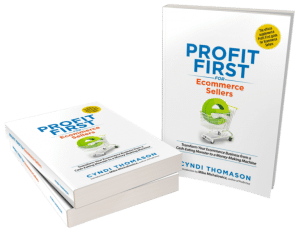 If your ecommerce business isn't where you'd like it to be in terms of profitability, check out my book, Profit First for Ecommerce Sellers. It answers important questions about how to implement Profit First in an ecommerce business. Take control of your money and your business, and put Profit First to work for you!
You can also sign up for the Profit First for Ecommerce Sellers Online Course. As a Mastery Level, Certified Profit First Professional, I will teach you why Profit First works so well for ecommerce businesses and the particular challenges for businesses that have physical products requiring inventory management. You will learn how your behavior drives your money management habits for your business and how you can set up your business bank accounts to work with your habits.
Check out all our ecommerce accounting and profit advising services here!
Do you know about Cyndi's new book?
Motherhood, Apple Pie, and all that Happy Horseshit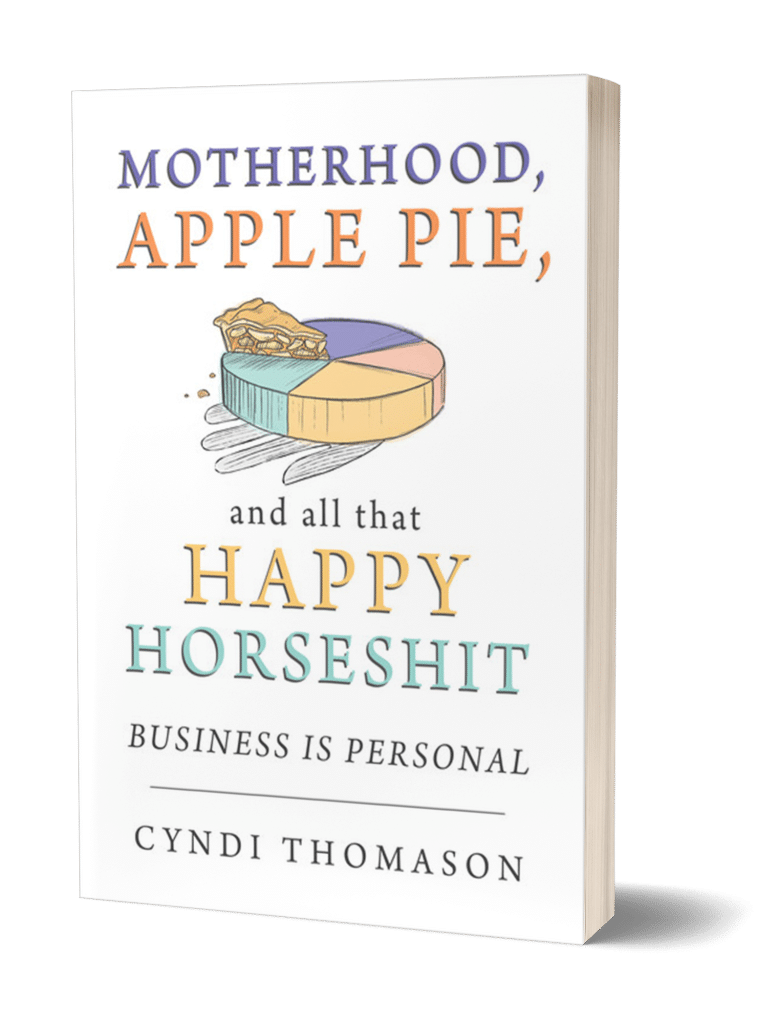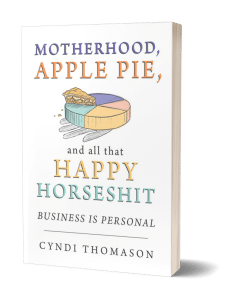 "You're about to discover the recipe for successful momma entrepreneurs."
– Mike Michalowicz, author of Profit First (and a wannabe momma entrepreneur)
Business is Personal
As a Mom, you can have it all and it's better when you do. Using your personal values to create the business of your dreams. By the end of this book you'll be confident in designing a business that supports your family and yourself.  Order Now!