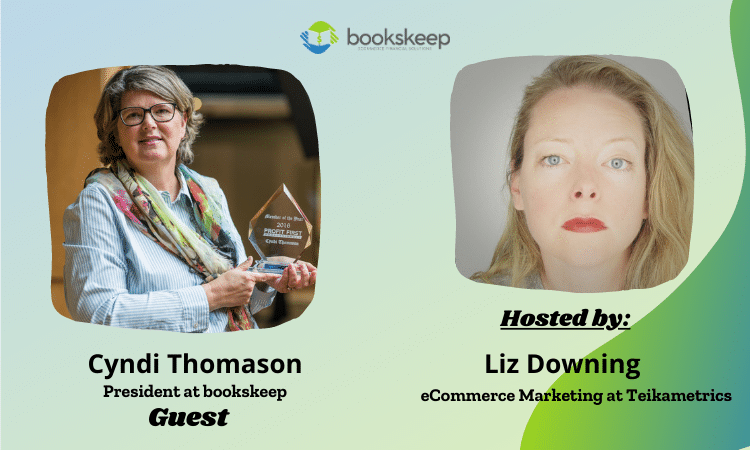 Event date: February 16, 2021
Posted date: February 16, 2021
Host: Liz Downing, Teikametrics
Guest: Cyndi Thomason
Link: https://www.youtube.com/watch?app=desktop&v=7fCk9nkTN1Y&feature=youtu.be
Related bookskeep blogs:
Know the Profitability Levers and Grow Your Ecommerce Business
Maximizing Profit is the Goal- Let's Understand Why!
Five Key Levers to Drive Profits- Identifying 1 and 2
Five Key Levers to Drive Profits- Levers 3, 4, and 5
A Note from Cyndi Thomason:
When the amazing folks at Teikametrics.com invited me to their webinar to discuss "Advanced Accounting Tips to Grow Profits for Your Ecommerce Brand" I was happy to oblige! During the webinar, we offer Amazon and other ecommerce sellers advanced tips on understanding profitability, saving money, calculating COGs and more. I also wrote a 4-part blog series as a companion piece to the webinar.
About the Host: Teikametrics.com
Teikametrics is a Marketplace Optimization Platform designed to optimize ecommerce businesses for smart, strategic growth. They are helping thousands of sellers and brand owners easily optimize their performance, across the most valuable marketplaces and business verticals.
About bookskeep:
Led by Cyndi Thomason, bookskeep is a virtual company offering bookkeeping and accounting services, profit advising and a host of Profit First products to ecommerce businesses. Cyndi Thomason is a thought leader in ecommerce accounting. She is a Mastery Level Certified Profit First Professional, Certified Fix This Next Coach, Profit First speaker, best-selling author and founder/president of bookskeep. With a virtual team located across the United States, Cyndi and her team provide services to ecommerce clients worldwide.