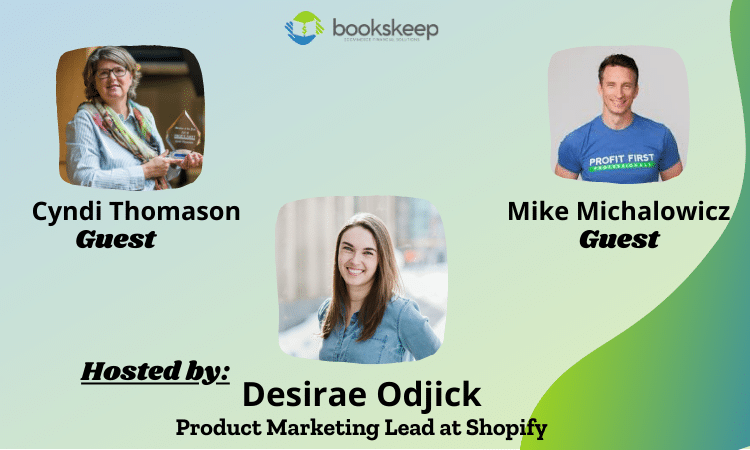 Event date: May 23, 2019
Posted date: September 30, 2019
Host: Desirae Odjick, Shopify
Guests: Mike Michalowicz and Cyndi Thomason
Link: https://www.shopifycompass.com/event/how-to-profit-as-an-ecommerce-entrepreneur
Related bookskeep blog: /blog/how-profit-first-changed-the-way-we-think
A Note from Cyndi Thomason
I first met Mike Michalowicz in 2014 at a QuickBooks Connect conference in San Jose, CA. That was the day my business changed forever. Since that time, Mike and I have been mentor and student, collaborators, and friends. When we had the opportunity to team up on this Shopify webinar, we jumped at it! We had a great time sharing lessons we've learned on how to build a profitable and sustainable ecommerce business. During the webinar, we discuss how and why Profit First works; and how money works in your business, including bank accounts, income and inventory. And through the lessons we've learned along the way, how you can achieve the results you want for your business.
Shopify is the ecommerce business platform that brings together powerful tools for finding customers, driving sales and managing your day-to-day. It has all the ecommerce and point of sale features you need to start, run and grow your business.
About bookskeep:
Led by Cyndi Thomason, bookskeep is a virtual company offering bookkeeping and accounting services, profit advising and a host of Profit First products to ecommerce businesses. Cyndi Thomason is a thought leader in ecommerce accounting. She is a Mastery Level Certified Profit First Professional, Certified Fix This Next Coach, Profit First speaker, best-selling author and founder/president of bookskeep. With a virtual team located across the United States, Cyndi and her team provide services to ecommerce clients worldwide.