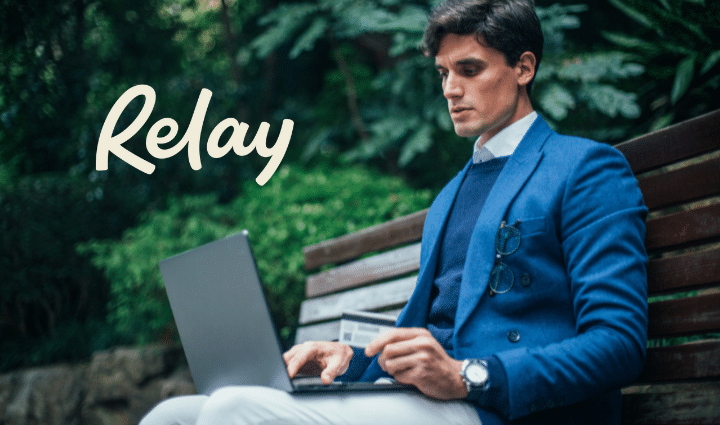 We have decided to round out our March Relay Blog Series with a Relay Webinar at the end of the month! So, mark your calendars for March 29th at 12pm CST because the awesome team at Relay is going to join bookskeep for a great webinar to discuss why this online banking platform is a perfect partner for Profit First.
Since getting this event on the calendar has put me in the webinar spirit, I started to reflect on an interview I had with Yoseph West of Relay, shortly after I met him and learned about the online bank in 2019. This was how the Q&A went:   
Does Relay work with QBO and Xero?
Yoseph: Relay is actually integrated with both, and bookkeepers can manage the connection on behalf of their clients, so clients don't have to create new bookkeeper accesses or passwords. You can log in with your own Relay credentials through the partner portal and you can say, "Okay, I want this Client A account to be hooked up to QBO." Xero API is a little more flexible, so we can actually populate a payee name. It's a little bit more organized, but the same information gets sent to both. A lot of the automation is available for both because the data coming through is high quality.
Can Relay Do Bill Pay?
Yoseph: Relay can be used to do bill pay online. The QuickBooks and Xero integration allows clients to be able to pull in unpaid bills. What we hear is that small business owners really just want to run their bill pay through their bank account. They don't want to use an external tool, so we thought it made a lot of sense to move that tool into Relay.
How Do You Set Up a Bank Account?
Yoseph: The documents required vary depending on the type of entity, but in general you'll need to provide a tax ID, government ID, and personal address for a sole proprietorship. For an LLC, we'll need the articles of organization, an operating agreement, an EIN verification letter, a government ID, and a social security number.
Does a Foreign Company Need to be Established in the U.S. to Create Accounts?
Yoseph: Yes, foreign companies do need to have an entity established in the United States.
Can I Set Up Multiple Accounts?
Yoseph: When an account is live, there will be an accounts tab. From there, you can add an account, name it, and decide who gets access to it. Then the account is immediately established and available. You can create up to 20 individual checking accounts.
How Does Relay Bank Compare with Mercury Bank?
Yoseph:Relay focuses on having that "in-between" channel for bookkeepers to make the account and the client's life easier. Our quality of bank feed integration is high because we're experienced in it. Relay also flows with the Profit First method very easily between setting up the accounts, making transfers, and being able to see an audit trail. 
For a full breakdown, you can check out our Relay vs Mercury comparison blog post here.
What About Transfers to Foreign Banks?
Yoseph: You can send and receive international wires, but it can be expensive sometimes. I often recommend clients integrate with a system like TransferWise, which Relay can be added to as a funding source.
How Does Relay Make Money if it's a No-Fee Service?
Yoseph: We are largely funded by a percentage of merchant fees that are paid when account owners use our Relay debit cards.
What Protections Are There for Relay Debit Cards?
Yoseph: We do have a fraud protection system that tracks client history and will notice if there is a foreign or unusual charge. Relay allows you to set controls and limits on the cards as well and enables you to block strange charges. If you do happen to have a fraudulent charge made, as long as you make a report within five days of that charge, you will be refunded for it.
I love the convenience of using Relay myself, and I'm excited to be hosting a webinar to share this banking option with other ecommerce sellers as well. The features and the opportunities have only grown since I talked with Yoseph in 2019, and with the launch of Relay's new Profit First Partnership Program, even better things are to come.
You can watch a Relay platform demo and learn more about online banking here!
Interested in Profit First?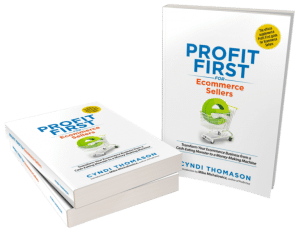 If your ecommerce business isn't where you'd like it to be in terms of profitability, check out my book, Profit First for Ecommerce Sellers. It answers important questions about how to implement Profit First in an ecommerce business. Take control of your money and your business, and put Profit First to work for you!
You can also sign up for the Profit First for Ecommerce Sellers Online Course. As a Mastery Level, Certified Profit First Professional, I will teach you why Profit First works so well for ecommerce businesses and the particular challenges for businesses that have physical products requiring inventory management. You will learn how your behavior drives your money management habits for your business and how you can set up your business bank accounts to work with your habits.
Check out all our ecommerce accounting and profit advising services here!
Do you know about Cyndi's new book?
Motherhood, Apple Pie, and all that Happy Horseshit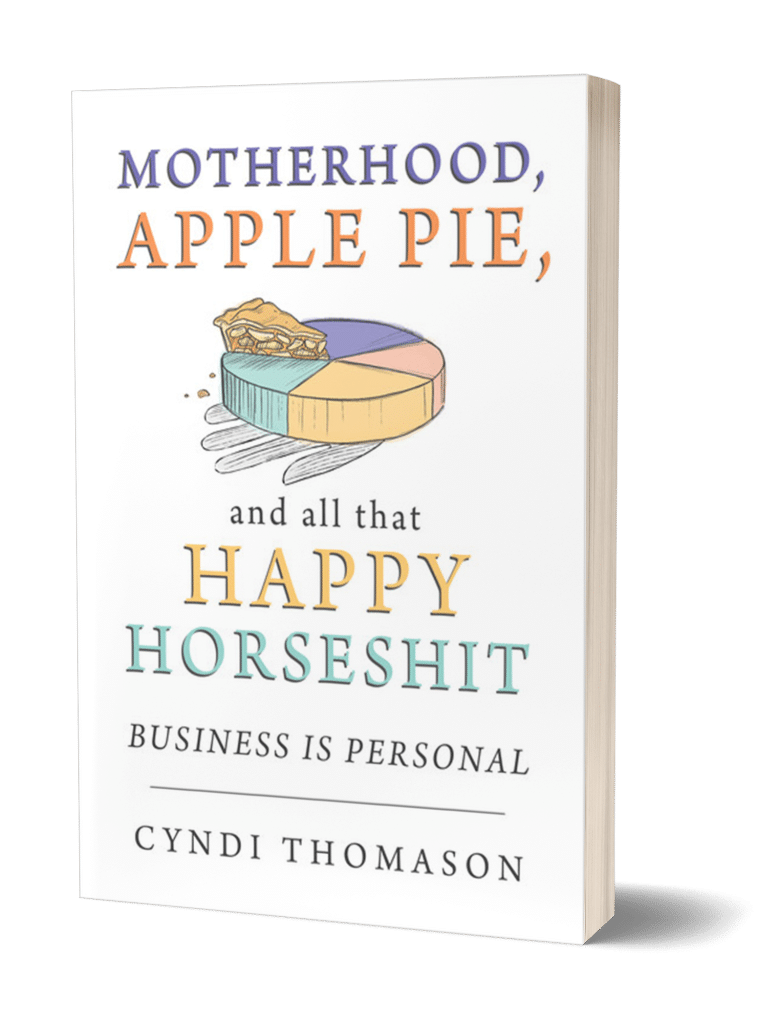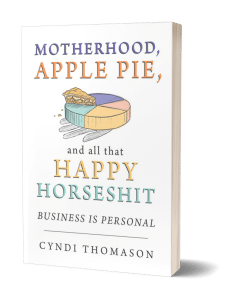 "You're about to discover the recipe for successful momma entrepreneurs."
– Mike Michalowicz, author of Profit First (and a wannabe momma entrepreneur)
Business is Personal
As a Mom, you can have it all and it's better when you do. Using your personal values to create the business of your dreams. By the end of this book you'll be confident in designing a business that supports your family and yourself.  Order Now!