Educate, Educating, Education. These words are sure to evoke some response, especially if you're doing school from home during the COVID lockdown. For me, these words bring back memories of my grandfather. He always said, "Get your education; no one can take that away from you." I worked in a corporate job and went to college part-time. It took me 11 years to get my Bachelor's in Economics and I was so proud that my grandfather saw me walk across the stage. The first and only grandchild to get a 4-year degree. Educating and learning are so important to me, so I made my company's mission to educate ecommerce sellers about their profit.
The ABCs of bookskeep
At bookskeep, we have 7 core values and we remember them by saying our ABC's. Always Be Caring, Data-driven, Educating, Flexible, Grateful, Honest and Inquiring. As you probably guessed, today's blog is about educating. Over this past year we have worked on this value in a few ways. First, our team is always learning. Attending training events, participating in our monthly accounting huddles and quarterly team meetings along with internal teams focusing on reading books and taking courses together.
How We Use Education to Help Our Clients
More recently we have started working on more education programs with our clients. Our bookkeeping team members are always happy to show you how to get information out of your accounting system or meet with you to ensure you understand your reports. We have our Profit First program that helps clients understand cash flow in their business and how to build a system that ensures profitability. Progress Masters is our latest endeavor, where we assess our clients' business, develop 90-day action plans and meet monthly to focus on accountability. The latest addition to this program launches next week where our Progress Masters clients will participate in a mastermind program to learn from each other.
In addition to these educational opportunities baked into our services, we launched a webinar series this month to do a deep dive into a tool. This month we focused on Relay and you can watch that replay here. We are planning our next one with Gusto to have them highlight all the ways they can help clients manage human resources.
These are a few ways we live our values. Of course, this blog, guest blog posts, podcast appearances and my book, Profit First for Ecommerce Sellers are ways we strive to educate our ecommerce community around financial solutions. I'd love to hear from you—what do you want to learn more about? I'm happy to investigate and it might just show up in this blog one day soon!
Interested in Profit First for Ecommerce Bookkeeping?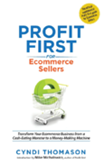 If your ecommerce business isn't where you'd like it to be in terms of profitability, check out my book, Profit First for Ecommerce Sellers. It answers important questions about how to implement Profit First in an ecommerce business. Take control of your money and your business, and put Profit First to work for you!
You can also sign up for the Profit First for Ecommerce Sellers Online Course. As a Mastery Level, Certified Profit First Professional, I will teach you why Profit First works so well for ecommerce businesses and the particular challenges for businesses that have physical products requiring inventory management. You will learn how your behavior drives your money management habits for your business and how you can set up your business bank accounts to work with your habits. Contact bookskeep today to learn more about ecommerce accounting and bookkeeping.