Like most of us, do you tend to have your best ideas while driving or exercising? Brainstorming about your next product launch, or coming up with cash flow questions to ask your bookkeeper on your next call? The thoughts are flowing and you want to get them recorded so they don't slip away! In today's climate, perhaps you need a transcript of a virtual meeting with your vendors or colleagues. Whatever the case, if you've ever found yourself thinking "I wish I had written that down!" then I have a great new transcription tool for you try out!
What is Otter.ai?
I've recently discovered an app called Otter.ai and so far, I'm loving it. Otter is a simple-to-use app that takes voice content and converts it to text. You can then save it in the app or download it and even share it with others. It has been a great tool for me, consistently dictating my speech into text.
When I walk, I often have ideas for my new book, a blog post or a client meeting. It's so easy just to dictate the idea by opening the app and pressing record. Otter immediately converts it to text and I can then email it to myself.
What really impresses me about the app is the accuracy of the text. If you've talked to me or listened to my book on Audible, you know I'm a southern gal. Growing up in North Carolina and living in Arkansas, my speech is slow with a bit of twang. Otter gets me!
What can Otter do for you as an ecommerce business owner?
The Otter.ai offers other features that are really useful, as well—
Save your own transcribed content
Save content shared with you by others
Create groups and folders
Sync with calendars and contacts, Zoom and Dropbox
One of our team members has been successfully using Otter for converting speech to text on recent Zoom meeting and webinars. She said the tool is easy to set up, easy to use and extremely accurate, even with multiple people talking.
Check out the Otter tool and see what you think!
I think you'll find lots of ways to use this awesome tool once you start using it. It's like having an assistant with you everywhere you go! The free version covers me most of the time, but if you have more involved needs, they do have other levels that have more capability but are still very affordable.
The bookskeep team is always on the lookout for tools that we feel can provide value to ecommerce businesses. Want to check out some of the other great tools we have shared? Visit the tools section of our blog!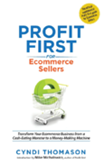 Interested in Profit First for Ecommerce Bookkeeping? 
If your ecommerce business isn't where you'd like it to be in terms of profitability, check out my book, Profit First for Ecommerce Sellers. It answers important questions about how to implement Profit First in an ecommerce business. Take control of your money and your business, and put Profit First to work for you! 
You can also sign up for the Profit First for Ecommerce Sellers Online Course. As a Mastery Level, Certified Profit First Professional, I will teach you why Profit First works so well for ecommerce businesses and the particular challenges for businesses that have physical products requiring inventory management. You will learn how your behavior drives your money management habits for your business and how you can set up your business bank accounts to work with your habits. Contact bookskeep to learn more about ecommerce bookkeeping and accounting.