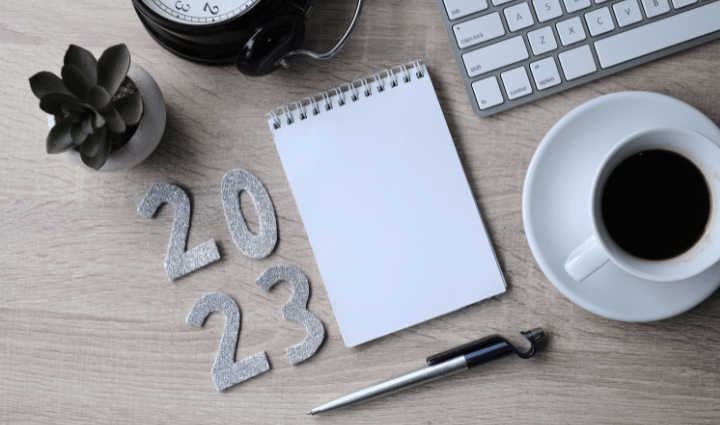 At the beginning of 2022, I had the opportunity to chat with one of our wonderful clients, Beth Fynbo with Busy Baby, LLC. She discussed a few things with me that are great reminders for this time of year. In just a few years, Beth has grown her business from an idea to a 7-figure business, so she knows what she's talking about! She brought up the importance of celebrating and making resolutions, and how we can use them to our advantage.
Why Should I Celebrate?
As we approach the new year, it's very easy to be consumed by future plans and projects. We become so invested in the goals and the targets that we quickly forget to look back at all we have achieved and have a formal celebration. But why take up precious time to celebrate in the first place?
Most importantly, it creates perspective. As a business owner, you of course focus on your problems and bring them home to your family. When you're only talking about the problems, you accidentally paint a bleak and sad picture.
Being a problem solver is an extremely important characteristic of being an entrepreneur, but being hardwired to solve problems means you're constantly on the lookout for them. It's a huge part of the workday, but it's not satisfying to the soul. In fact, always seeking the negative quickly leads to burnout.
I have talked to countless people that tell me they hate their business because it is sucking the life out of them. They feel like they've created a monster that they can't tame. Beth tackled this and shared with me, "I can't emphasize just how important it was to exercise a year-end celebration for us. We had hit an interesting point of burnout and celebrating brought the life back to us." We need a celebration every now and then to prevent ourselves, and our families, from associating our business with struggle and dread. So, find your wins and celebrate them with your family.
How Do I Learn from Wins?
Looking back is also the best way to be sure we have made use of lessons learned through the year. This isn't always the aftermath of a problem. We also learn from doing things right.
It can be easy to forget what you've learned when the next opportunity comes along. Your exciting "light bulb moment" is old news without reflection. Take the time to reflect and then incorporate what you've learned into your processes.
Go ahead and take just 5 minutes now. Yes, I know you're busy, but those problems can wait. Quickly jot down a few successes from this year. What are you proud of and what did you learn from those things? How can that positively impact your business and life, and how can you implement the learning to keep benefitting your business? Now, do something special with your family and ensure learning is built in to the systems.
Resolutions Are Motivation
Everyone knows the New Year tradition is making resolutions. In the business world, we call them goals. Beth shared that this time of year makes her feel "icky" because of the pressure to be bigger and better than last year, or at least just as good. As the year progresses, she starts to feel better about her goals and progress in them.
Beth is making huge strides in her business, and every year is something brand new for her. She chooses to set "scary" goals that move her out of the comfort zone and motivate her. Bold and audacious goals may not be what gets you moving, and that's fine. Modest improvement throughout the year is just as much a win as a big leap, if that's what motivates you to take action and be intentional in the next year.
So, make your first resolution loving your business in 2023. Celebrate your wins, avoid burnout, and create a business that works for you.
If you need help with goal planning or taming the business monster you've created, we can help! Reach out to the bookskeep team today!
Interested in Profit First?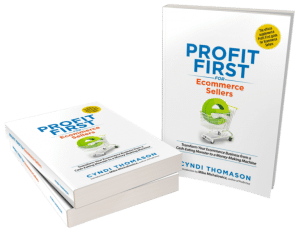 If your ecommerce business isn't where you'd like it to be in terms of profitability, check out my book, Profit First for Ecommerce Sellers. It answers important questions about how to implement Profit First in an ecommerce business. Take control of your money and your business, and put Profit First to work for you!
You can also sign up for the Profit First for Ecommerce Sellers Online Course. As a Mastery Level, Certified Profit First Professional, I will teach you why Profit First works so well for ecommerce businesses and the particular challenges for businesses that have physical products requiring inventory management. You will learn how your behavior drives your money management habits for your business and how you can set up your business bank accounts to work with your habits.
Check out all our ecommerce accounting and profit advising services here!
Do you know about Cyndi's new book?
Motherhood, Apple Pie, and all that Happy Horseshit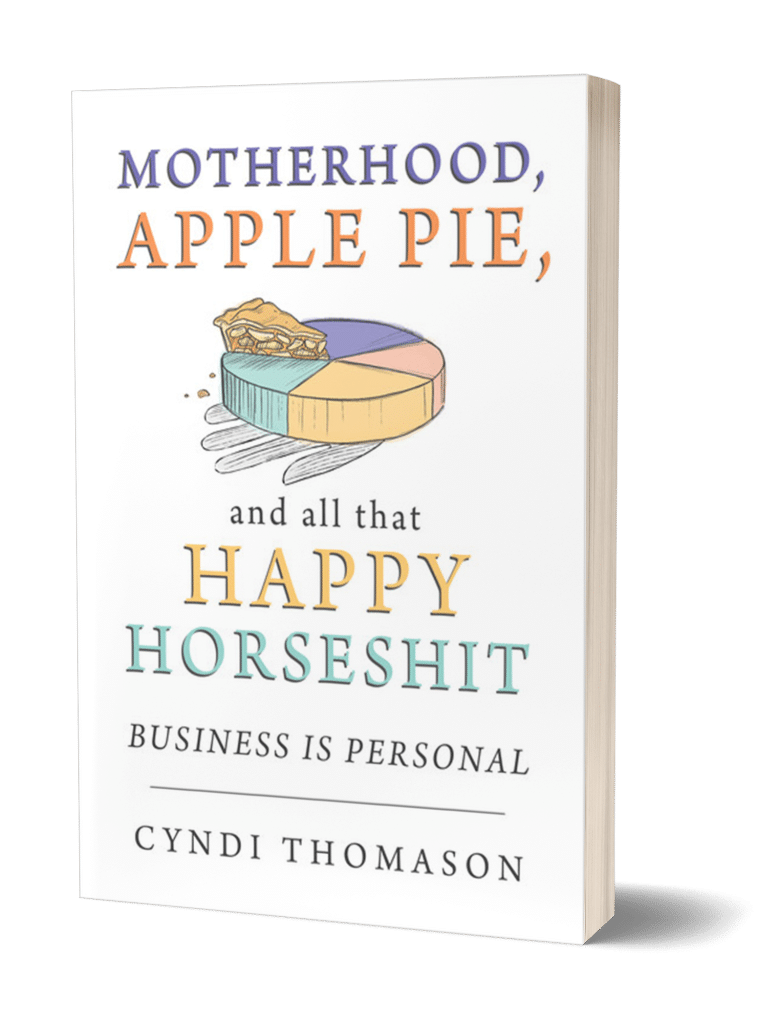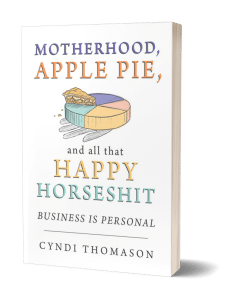 "You're about to discover the recipe for successful momma entrepreneurs."
– Mike Michalowicz, author of Profit First (and a wannabe momma entrepreneur)
Business is Personal
As a Mom, you can have it all and it's better when you do. Using your personal values to create the business of your dreams. By the end of this book you'll be confident in designing a business that supports your family and yourself.  Order Now!