With the ecommerce business market being so hot, we have seen several bookskeep clients take advantage and sell their businesses. As we worked with clients through the process, as well as talking with other business owners and exit experts who had been through the sale before, we realized that this was yet another way we could help our clients through the next stage in their growth.
For this reason, we have created our new for current bookskeep clients. Through this service we offer financial analysis and bookkeeping support to keep your numbers accurate and maintain your business valuation while you focus on making the sale for the right price.
What Does SmartSell Do?
The SmartSell Program has been designed to offer business sale support for ecommerce business owners through research and exploration, final financial documentation, and post-purchase transitions. Preparing to sell while keeping up with the normal day-to-day life can be overwhelming, so we're here to help!
We'll keep your numbers accurate and updated so that you can easily see where you stand. You'll be able to look down the road and decide whether you should sell right now or wait six months based on how the numbers fall on your timeline. This ensures you sell when the business and the market are right to achieve the price your business is worth.
Through consulting, your revenue and profit history will be clear and easy to explain to potential buyers, and forecasting will give you everything you need to know about a new product launch or expected big expenses. You'll be able to confidently make decisions and present the numbers and facts.
How Does It Do It?
The results of SmartSell are achieved through a variety of services that we have created to provide accurate data, knowledge and understanding of where your business sits financially, and extra confidence in the value of your business. So how do you get those things?
With SmartSell, you'll be getting our new SmartStatements, an organized set of financial statements that have broken down with graphs and charts to provide you with a visual representation of your numbers and what they mean. You can be confident that your financial records can be presented based on broker guidance and include add-back segregation
We're working as a partner through the sale with you, so collaboration will be top priority. Collaborating with you, the business owner, to analyze your essential metrics and assess the value of your business simplifies decision-making, saving you valuable time and potentially reducing costs.
As an exiting business owner, communication between yourself, your broker, and a potential buyer is critical, and SmartSell can help! Through data gathering, consulting, and collaboration, you can ensure that all your hard work is rewarded and you get the stress-free exit you deserve!
If you are a current bookskeep client, or interested in becoming a client, who is interested in our SmartSell program, reach out to the bookskeep team today!
Interested in Profit First?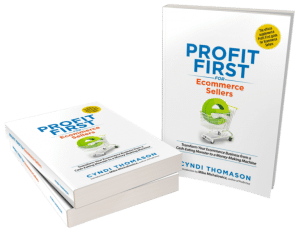 If your ecommerce business isn't where you'd like it to be in terms of profitability, check out my book, Profit First for Ecommerce Sellers. It answers important questions about how to implement Profit First in an ecommerce business. Take control of your money and your business, and put Profit First to work for you!
You can also sign up for the Profit First for Ecommerce Sellers Online Course. As a Mastery Level, Certified Profit First Professional, I will teach you why Profit First works so well for ecommerce businesses and the particular challenges for businesses that have physical products requiring inventory management. You will learn how your behavior drives your money management habits for your business and how you can set up your business bank accounts to work with your habits.
Check out all our ecommerce accounting and profit advising services here!
Do you know about Cyndi's new book?
Motherhood, Apple Pie, and all that Happy Horseshit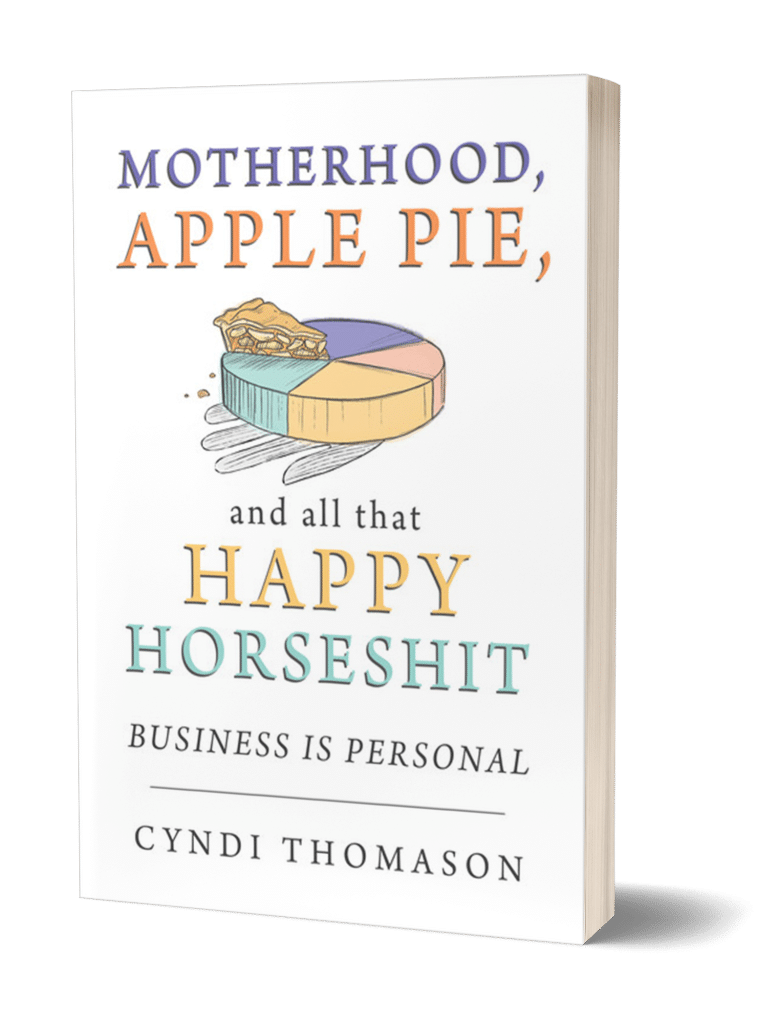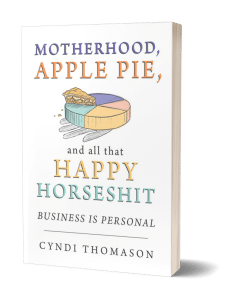 "You're about to discover the recipe for successful momma entrepreneurs."
– Mike Michalowicz, author of Profit First (and a wannabe momma entrepreneur)
Business is Personal
As a Mom, you can have it all and it's better when you do. Using your personal values to create the business of your dreams. By the end of this book you'll be confident in designing a business that supports your family and yourself.  Order Now!