In the second blog of our SmartSell Program series, we're explaining the ins and outs of the program and what it can do for you. Through a 4-step implementation process and new reports designed specifically to support the sale, SmartSell will provide the financial data you need to keep your business valuation accurate so you can take the exit you deserve.
As bookkeepers who have been through the sales process and know that clean numbers are the way to a buyer's heart, we designed SmartSell to give you exactly what you need to be confident in your business and have what buyers want on hand and ready to go. So how do you get there?
The 4-Step Process
The SmartSell Process is laid out in 4 steps that have been designed to dig deep into the numbers and make sure you have the most accurate data when selling. You will be involved in every step of the implementation process, working with our consultant to reach decisions and increase confidence. Let's go over the steps.
Initial Business Analysis. Before your first call with Jeremy, he'll take a look at your current financials to get a better understanding of the books. He'll look at what accounts are in use, what transactions are coming through, and the account structure so he knows what to recommend when it's time to talk add backs.
Add Back Deep Dive. The next step is the first call. You'll receive initial recommendations and have the opportunity to discuss your concerns and feedback. On this call, you will also go over the initial add back analysis to make sure the categorizations and identifications are correct. This is where you get your first small homework assignment: review and tag specific transactions for add backs.
Report Development. Once you've approved the add back analysis, it's time to get to work! Jeremy will begin to create your reports. Your bookkeeper will be involved as well to make sure your accounting software stays up-to-date and transactions are coded properly. Jeremy will also develop your new SmartStatements that will include pages for Exit Metrics.
Final Report Approval. This is the final step in the implementation of SmartSell! In this step, you will jump on another call with Jeremy to review your SmartStatements and Exit Metrics. You'll work through any tweaks and sign off on the reports. With your final approval received, you'll begin receiving the new and improved monthly reports from your bookkeeper.
What's New?
Besides new reports, what are you getting out of the program? With SmartSell, your bookkeeper is now coding your transactions to keep up with add backs and new expenses. This ensures that your business valuation estimate and your reports stay as accurate as possible, while you continue to work on making the sale.
Although not included in the SmartSell Program, we are also here to help if you need additional support! Based on a price customized to your needs, additional support is available during and beyond the sales process.
During The Sale. If you need help pulling reports, broker/buyer data requests, and crunching numbers, we're here for you!
Beyond The Sale. If you're looking for support in business or financial planning, goal setting, software transitions, and/or financial advisors and CPAs, we can help with that too!
SmartSell was created for the exiting ecommerce business owner, by bookkeepers who have seen what it takes to keep accurate financial data during the sales process. You know what your business is worth, and we can help you prove it. If SmartSell is exactly what you have been wishing for, reach out to the bookskeep team today!
Interested in Profit First?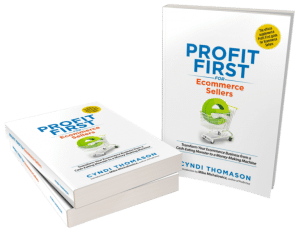 If your ecommerce business isn't where you'd like it to be in terms of profitability, check out my book, Profit First for Ecommerce Sellers. It answers important questions about how to implement Profit First in an ecommerce business. Take control of your money and your business, and put Profit First to work for you!
You can also sign up for the Profit First for Ecommerce Sellers Online Course. As a Mastery Level, Certified Profit First Professional, I will teach you why Profit First works so well for ecommerce businesses and the particular challenges for businesses that have physical products requiring inventory management. You will learn how your behavior drives your money management habits for your business and how you can set up your business bank accounts to work with your habits.
Check out all our ecommerce accounting and profit advising services here!
Do you know about Cyndi's new book?
Motherhood, Apple Pie, and all that Happy Horseshit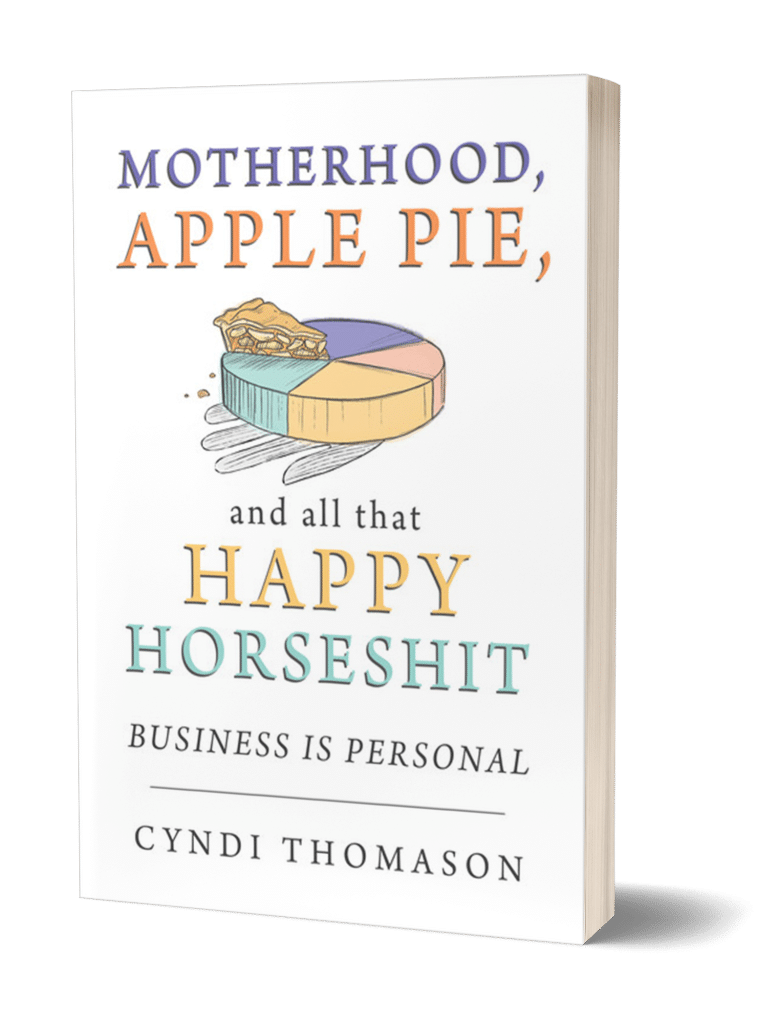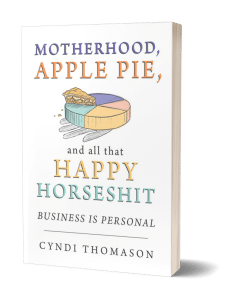 "You're about to discover the recipe for successful momma entrepreneurs."
– Mike Michalowicz, author of Profit First (and a wannabe momma entrepreneur)
Business is Personal
As a Mom, you can have it all and it's better when you do. Using your personal values to create the business of your dreams. By the end of this book you'll be confident in designing a business that supports your family and yourself.  Order Now!