by guest blogger, Laura McCaul, Co-founder of Sponsored Profit
For many Amazon sellers, Q4 is their most lucrative time of the year. In 2019, Amazon generated total net sales of 87.44 billion U.S. dollars in Q4 alone! If you want to get in on the action this Q4, it's crucial that you prepare your Amazon PPC for the holiday hustle and bustle.
In this post, I'm going to give you a concrete plan of action. But first, let me explain why you need a Q4 Amazon advertising strategy NOW.
3 reasons for planning your Q4 PPC now
Reason #1: Higher ad costs
In Q4, competition for paid real estate increases dramatically with sellers willing to spend more money on ads. Ad costs start to go up at the end of Q3, and don't go back down until after the new year. This typically results in 30% higher cost per clicks (CPC) which is the amount you pay every time somebody clicks on your ad.
It is for this reason that you need to plan for a realistic Amazon advertising budget up until the end of the new year period.
Reason #2: The time for testing is NOW
In simplistic terms, Amazon PPC is data, consisting of keywords and bids. The longer you run your PPC campaigns, the more data you collect.
By the time Q4 arrives, you want to know what your best keywords are so you can focus your ad dollars on those top performers to ensure you get the biggest bang for your buck. You do not want to be testing new keywords or running 'research' campaigns during the holiday period.
So start testing new keywords and campaigns now. That way you can make the best use of your data to maximize sales and more importantly, profit, in Q4.
Reason #3: Maximize sales
If you want to make the most of the huge increase in traffic and customer demand, you want your ads to be visible 24/7. You want to be able to plan for a PPC budget that will support 'always on' campaigns so you can take advantage of the anticipated sales uplift all day, every day.
A Simple 6-Step Plan for Preparing Your Amazon PPC for a Profitable Q4
Step 1: Set up and test holiday campaigns
 Start: now. The first thing you want to do is create a separate holiday campaign with a small budget so you can start researching and testing holiday-related search terms.
It's important to remember that Amazon is always looking for relevance and to provide a great customer experience. So, you don't want to start bidding on generic holiday terms such as "holiday gifts for men" just yet as such search terms could be misleading.
Instead, start with search terms that are a combination of 'gift + your product'. This will help narrow your target audience, gauge search volume and enable you to start ranking. EXAMPLE: "wallet gifts for men."
Step 2: Optimize your listings for clicks and conversions
 Start: now. To take advantage of the spike in traffic, you want to make sure your product listings are as highly optimized as possible. This means checking and improving:
Your Keywords and Click-Through-Rate (CTR) – Your CTR is an indicator of how relevant your ad is to a shopper's search query. It's therefore important that the keywords in your product listing are on point to ensure that your ads are shown to the right audience.
Ensuring your top-performing keywords are in your product listing and back-end search terms will also improve the relevancy of your product listings, and in turn, sales.
Your Product Listing and Conversion Rate ( Unit Session Percentage) – Conversion rates are typically higher over the Holiday period so dialing in your product listings' conversion rate is the easiest way to take advantage of the increase in traffic.
Make your product offering as compelling as possible by ensuring your title, product images, bullet points and product description and/or Enhanced Brand Content (EBC) are engaging and persuasive. Improving how well your product listing converts will, in turn, improve how well your ads convert.
Step 3: Get laser focused to avoid wasting money
 Start: now and ongoing. The more money you spend on ads, the more you can waste if you're not careful. In fact, brands misspend approximately 20% of their Amazon advertising budget every month – without even knowing it!
One of the most effective ways to prevent your PPC campaigns from bleeding money, especially during Q4, is to use negative keywords.
At Sponsored Profit, our Misspend Prevention Method uses several strategies to cut ad waste by an extra 30% to 53%. One of those strategies is our Single Word Negative Phrase Match strategy.
To implement this strategy for your PPC campaigns, first you need to create a list of single words that are irrelevant to your product. Then add them as a negative phrase match to prevent your ads showing for non-relevant searches.
As an example, let's say we sell a wooden scrubbing brush. In the below Search Term Report, we can see that there have been multiple occasions where our ad has been clicked on when the word "silicone" has been used resulting in $171 of wasted ad spend.
By simply adding the single word 'silicone' as a negative phrase match keyword to these campaigns, we can eliminate all of these clicks and wasted ad budget instantly.
Step 4: Identify your best keywords to maximize sales
 Start: end of October. Ever heard of the 80/20 rule?  Also known as the Pareto Principle, it states that 80% of output or results comes from 20% of input or action.
If you pay attention to your Search Term Report, you will notice that only about 20% of your search terms are driving 80% of your revenue. These are the select few search terms that you should focus on during the holiday period so you can make more sales and bigger profits.
As a guide, we consider best performing keywords to be those keywords that:
Have 3+ sales
Are highly relevant (i.e. has a CTR of 0.4% and above)
Are within an acceptable ACoS range or CPC range
For example, let's say your break-even Advertising Cost of Sale (ACoS) is 30%. A break even ACoS is when your ACoS is equal to your profit margin. This means you are driving as many PPC sales as possible at little or no cost to positively impact organic rank, and in turn, organic sales.
That means you might only want to target keywords and ASINs that have an ACoS of 40% or lower. We can allow a little over break even going into Q4 as conversion typically increases during the holiday season which in turn lowers ACoS.
I'll talk about what is an acceptable CPC range in the next step.
At the same time, you want to turn off testing campaigns and pause non-performing keywords. These are keywords that:
Have no sales
Are outside an acceptable ACoS or CPC range
Step 5: set break-even bids to avoid losing money
 Start: end of October. Just as it is easy to waste money on ads by bidding on keywords that are completely irrelevant, it's just as easy to lose money, too!
We see this all the time with sellers bidding on highly competitive, high Cost per Click (CPC) keywords that they simply cannot afford. Just because you make PPC sales from a keyword, doesn't automatically equate to making money from that keyword. Setting your bids at break-even will prevent this.
Here's how to calculate what your break-even bid is. First, you need to know your profit margin before ad spend as a dollar amount. EXAMPLE: $6.00.
Next, you need to calculate your Click To Order (CTO) ratio. Also known as your PPC conversion rate, this is how many clicks it takes for an ad to convert into an order.
To calculate this, go to Campaign Manager and into your campaigns. Divide the number of clicks by the number of orders for any given keyword. In the example below this is 9,048/1339 = 6.76. So your CTO is 6.76.
Now you can calculate your break-even bid by dividing your net margin by your CTO. So in the example given: $6.00/6.76 = $0.89. That means your break-even bid is $0.89.
Therefore in this example, with a CPC of $0.80 and a break-even bid of $0.89, the above keyword is within an acceptable CPC range. If the break-even bid were below $0.80, it wouldn't be and you would be losing money on every click.
Step 6: set up a budget to support always-on campaigns
 Start: end of October. With so many people shopping on Amazon during the holiday season, it's not unusual for your usual daily budget to run out sometime during the day.
That's why you want to set a daily budget that's high enough to keep your ads showing all day, so you don't miss out on potential sales.
By setting a budget that allows for all day visibility, you'll be leaps and bounds ahead of your competition. Let your competitors fight for the top spots early in the day and blow their budget. That way, you can patiently wait and start scooping up sales later in the day when there is less competition!
A handy tip for allocating your budget is to split your budget 80/10/10 according to search intent with the majority of your budget going on the most relevant keywords. You can also start adding those broader holiday keywords in your Holiday campaign:
80% on your best performing, highly relevant keywords e.g. "red running shoes for men"
10% on product-related, holiday keywords e.g. "holiday gifts + product name"
10% on broad, browsing 'holiday' keywords e.g. "holiday gifts for men"
Conclusion
Q4 is the most exciting season for an Amazon seller. But success doesn't happen by accident. It takes planning. As Benjamin Franklin famously said, "If you fail to plan, you plan to fail."
I hope this blog helps you to better plan and manage your PPC for a successful and profitable Q4 2021. Happy selling and happy holidays!
Laura McCaul is co-founder of Sponsored Profit, an Amazon PPC agency that specializes in helping growing brands scale their Amazon Advertising profitably. Laura and her team have generated over $65MM in profitable sales on Amazon for their clients to date.
Interested in Profit First?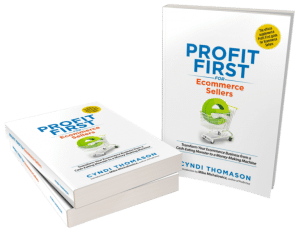 If your ecommerce business isn't where you'd like it to be in terms of profitability, check out my book, Profit First for Ecommerce Sellers. It answers important questions about how to implement Profit First in an ecommerce business. Take control of your money and your business, and put Profit First to work for you!
You can also sign up for the Profit First for Ecommerce Sellers Online Course. As a Mastery Level, Certified Profit First Professional, I will teach you why Profit First works so well for ecommerce businesses and the particular challenges for businesses that have physical products requiring inventory management. You will learn how your behavior drives your money management habits for your business and how you can set up your business bank accounts to work with your habits.
Check out all our ecommerce accounting and profit advising services here!
—————————