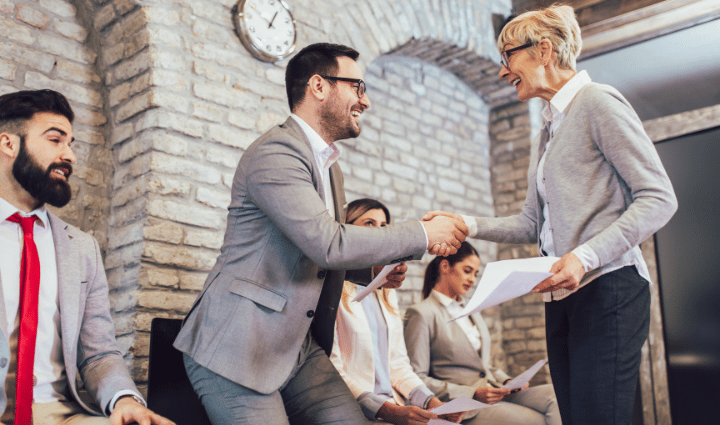 Finding your next five-star employee will be easier now that you have considered what makes an employee a good fit for your organization and the role you are hiring for. We've discussed the qualities that make a great employee. We've considered the skills and aptitudes needed for the job we are trying to fill. Using the qualities, skills, and aptitudes, we have developed a great set of interview questions.
With all of these pieces in place, let's be deliberate about the process to ensure we get to know the candidates and they get to know us. Through this process, we can be more likely to get the desired outcome: a five-star employee.
Setting the Mark
Here is how the process works in my firm, bookskeep. First, the candidates may discover us through our website career page or a job posting. We provide a lot of detail about our culture and expectations. We have a few videos where I describe our values and what it's like to work with our team. If the candidate is interested in taking the next step, they complete our application.
Once we have their application, they are automatically sent a personality test. The benchmarks for the test are based on the performance of our existing team. We know that if we can get close to their personality type, we are more likely to find a good fit. If the candidate scores 70% or higher, then we invite them to take a batter of skills tests that evaluate their accounting skills, accounting terminology, excel, outlook, and data entry speed. We evaluate their performance and if they do well, we set them up for the first interview.
The First Interview
The first interview is short, about 30 minutes. The purpose of this interview is to understand their progression between their past jobs and to get an idea about the reasons they have changed jobs over the years. During this interview, we are looking for patterns around job changes and how they talk about their past roles. Their performance during this interview determines if they progress to the next step.
At this next stage, we begin to ask the candidate to show us some of their work products. We ask them to review a set of financials statements and prepare an email to the client about how the client's business is performing. We often ask for a resume five years into the future. How they present themselves is important.
The Final Round
Next, the candidate participates in another interview where we discuss their qualities, attributes, and skills. We give them an assignment and watch them work onscreen during the conference call. As you can see, we are spending quite a bit of time with the candidates and we are looking for reasons to not continue the process.
If they are successful with this interview, they are invited back to interview with the leadership team.  The leadership team asks additional questions about qualities, attributes, and skills. We encourage the candidates to ask us questions too. Each of the leadership team members score the candidates and after all the interviews are complete, the top candidate is offered the position contingent on three things:
Passing a credit check, drug test, and background check
Signing a Nondisclosure and noncompete agreement
Participating in a paid shadow day with a bookkeeper mentor
Finally, we want them to see how we operate. It is a successful outcome if they participate in the day and then walk away because they don't enjoy the kind of team environment that we have. It's better to find out that it's not going to work out before the person is an employee on payroll. With a great onboarding and training program, they will be performing and contributing in short order, because they are a good fit.
As you can see, it's a process! We want to ensure that we have cast the net wide in the beginning of the process because we will be weeding out during each step. We also want them to feel comfortable with us so that we can start to see the real person, not just their persona, ensuring we have found the right person for our team.
Interested in Profit First?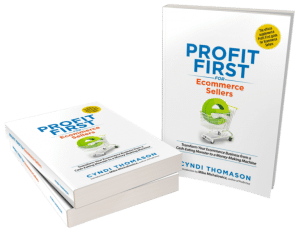 If your ecommerce business isn't where you'd like it to be in terms of profitability, check out my book, Profit First for Ecommerce Sellers. It answers important questions about how to implement Profit First in an ecommerce business. Take control of your money and your business, and put Profit First to work for you!
You can also sign up for the Profit First for Ecommerce Sellers Online Course. As a Mastery Level, Certified Profit First Professional, I will teach you why Profit First works so well for ecommerce businesses and the particular challenges for businesses that have physical products requiring inventory management. You will learn how your behavior drives your money management habits for your business and how you can set up your business bank accounts to work with your habits.
Check out all our ecommerce accounting and profit advising services here!
Do you know about Cyndi's new book?
Motherhood, Apple Pie, and all that Happy Horseshit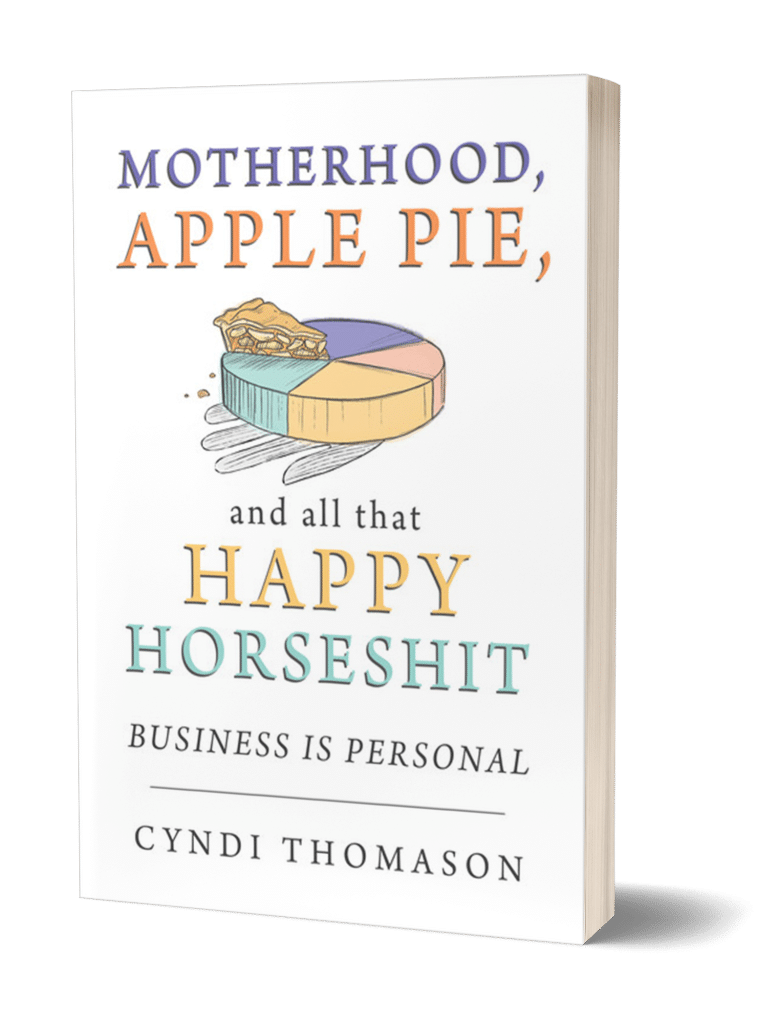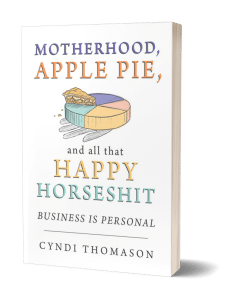 "You're about to discover the recipe for successful momma entrepreneurs."
– Mike Michalowicz, author of Profit First (and a wannabe momma entrepreneur)
Business is Personal
As a Mom, you can have it all and it's better when you do. Using your personal values to create the business of your dreams. By the end of this book you'll be confident in designing a business that supports your family and yourself.  Order Now!