Amazon Prime Day wrapped up last week and the reports I saw were somewhat mixed. Some reported their results as "meh," "decent" and "only a 30% increase." Was it the same for you? The settlement deposit will be coming soon and I'm wondering, "What will you do with that bump in sales?" 
What to Do With the Cash Boost
Since we are already in Q4 having missed the typical July Amazon Prime Day, the extra funds are probably too late to help much with inventory growth for Q4. There is also uncertainty about inventory levels allowed at Amazon, concerns about rule changes that may impact what can be fulfilled by Amazon, and just delays and backups with getting inventory stock added or sent to customers. One article I read encouraged everyone to shop early because 1-day and 2-day shipping would be more like 2- and 3-week shipping.
Since you got a little boost from Prime Day and Q4 is already in play in this uncertain world, why not use that cash boost to shore up your finances a bit? You're likely pretty busy at the moment and when we're busy is not always the best time to make decisions. So set that money aside in a separate bank account to be used later. Don't leave it in your checking account because it will be whittled away, and you'll not have anything to show for it.
We Use What We've Got
Here's how that works. In Profit First, we learn that our human behavior around resources boils down to this simple economic law, "We use what we've got." This is the simplest explanation for Parkinson's Law. So, if you have a lot of a resource, for example time to complete a project, you put off starting the project. If you have a lot of money sitting in your operating checking account, you find a way to use the money. Small purchases that would not be made if money were not available are made without much thought. Or there is enough money to buy that new computer or new work van and the money is put to use without proper consideration around the best purpose for the money.
When you keep your operating checking account lean, you are more frugal and innovative with how you spend your money. Simple action you can take when you get the deposit with the Amazon Prime Day sales bump is to move the extra bump into your savings account.
A Little Twist on Your Allocations
If you are practicing Profit First, allocate as usual to your Inventory Account and all of the normal allocations you make, such as Profit, Owner Pay and Taxes. But then look at your typical Operating Expense allocation dollars over the past few months and allocate that dollar amount. Yes, we are abandoning the percentage method for this deposit. Take the excess that is left after your Operating Expense dollar allocation and add it to your Profit Account. This will ensure that your operating expenses are covered as usual, and it also ensures that operating expenses don't grow to meet the balance in the account. You can also use this method throughout Q4 if you are experiencing higher than normal sales.
In January, you can go back to your normal business operations. The dust will have settled by then and you can look at the best use for your bump from Prime Day and Q4. Perhaps it is to fund that 3-month cash reserve so you're ready for the next time of uncertainty, or maybe you're planning to grow inventory or launch a product. You will have the funds in hand to move your business in the right direction to accomplish your goals. You'll be your own bank, and that empowers you to make those decisions confidently.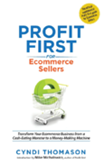 Interested in Profit First for Amazon Accounting?
If your ecommerce business isn't where you'd like it to be in terms of profitability, check out my book, Profit First for Ecommerce Sellers. It answers important questions about how to implement Profit First in an ecommerce business. Take control of your money and your business, and put Profit First to work for you!  
You can also sign up for the Profit First for Ecommerce Sellers Online Course. As a Mastery Level, Certified Profit First Professional, I will teach you why Profit First works so well for ecommerce businesses and the challenges for businesses that have physical products requiring inventory management. You will learn how your behavior drives your money management habits for your business and how you can set up your business bank accounts to work with your habits. Contact bookskeep today to learn more about Amazon accounting and bookkeeping.