The typical argument I hear from my clients is that their business has to have debt to achieve growth. I understand where they're coming from, but there are factors that need to be considered because not all debt (or growth) is created equal. You need to understand a few critical components of both debt and growth to make sure neither comes back to bite you.
3 Common Types of Ecommerce Debt
First, let's talk about the kinds of debt and which ones pop up most frequently in ecommerce.
Bridge loans – these loans will help you cover about a week or two, maybe even a month when you know you will be receiving payments, but you'll need to place an order or make payroll before the money shows up. These involve little risk.
Leverage – This is debt used to grow. You have nailed down product costs and sales prices for a new opportunity and you can, with a high degree of certainty, see the reward of using the money to purchase additional inventory, expand your team, or add more equipment. The risk is there, but you have calculated it all up and figured out the risk and return.
Delaying the inevitable – We borrow this money when we're at the end of their rope and need more money to keep things going. Your products aren't making the gross margin you need to support your business and debt interest. Instead of facing reality and taking action, clients will look for loans to keep the lights on. The problem with this is that this loan is a Band-Aid. It doesn't actually fix the issue, just adds to your expenses. This is a risky move. The risk involved is that without correction, you will personally guarantee loans, and not only will the business collapse under the weight of piling debt, but your personal credit could collapse as well.
Where Do Debt and Growth Meet?
Business growth most often includes debt types like bridge loans and/or leverage. However, trying to grow while using debt to delay the inevitable is like fire and gasoline. You will definitely speed things up, but you aren't actually growing.
So where do you start to get out of that "delaying the inevitable" kind of debt? The first step is to commit to not borrowing any money until you can work out of your situation. Then, you need to really look hard at your products. Determine which products are producing a 30% or higher gross margin and which ones aren't.
Ask yourself how you can improve your margins. Can prices be raised, manufacturing, fulfillment, or shipping costs be lowered? Then get serious about making those things happen, and cut your operating expenses. At this point, you'll be ready to find ways you can consolidate your debts into the cheapest instruments so that you can minimize those loan payments.
Time to Make a Tough Choice
Sit down and come up with a timeline for you to create a sustainable business model in – 3 months for example. If you work hard for those 3 months and don't see any significant improvements after, it's time to make the tough decision and figure out what exit strategies are options for you. Your business may have a high marketplace value even though there have been challenges.
New owners will likely not have the same cash and debt constraints that you have and will run the business differently. While it may not be how you envisioned creating your business would end, it may be time to cut your losses and hand the reins over to someone else.
If you're lost when it comes to figuring out debt, how to use it, or if you even can use it, bookskeep can help! With our consulting programs and customized business planning options, we can help you figure out where to start and what tough decisions to make. Reach out to bookskeep and get started today!
Interested in Profit First?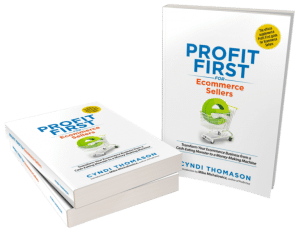 If your ecommerce business isn't where you'd like it to be in terms of profitability, check out my book, Profit First for Ecommerce Sellers. It answers important questions about how to implement Profit First in an ecommerce business. Take control of your money and your business, and put Profit First to work for you!
You can also sign up for the Profit First for Ecommerce Sellers Online Course. As a Mastery Level, Certified Profit First Professional, I will teach you why Profit First works so well for ecommerce businesses and the particular challenges for businesses that have physical products requiring inventory management. You will learn how your behavior drives your money management habits for your business and how you can set up your business bank accounts to work with your habits.
Check out all our ecommerce accounting and profit advising services here!
Do you know about Cyndi's new book?
Motherhood, Apple Pie, and all that Happy Horseshit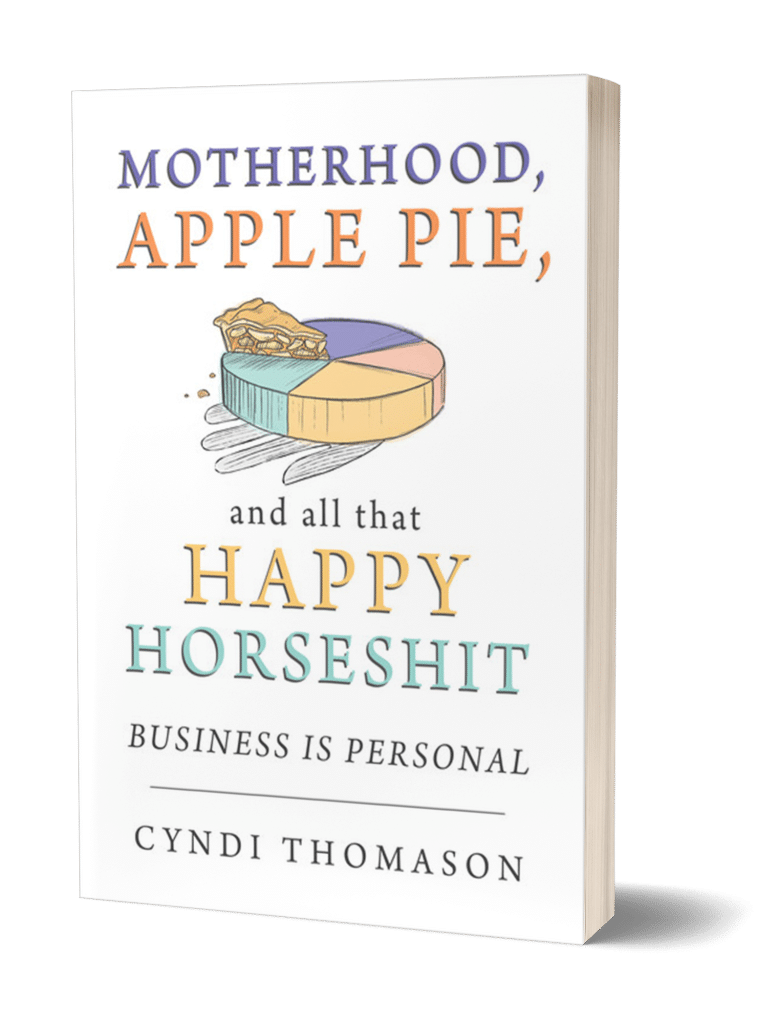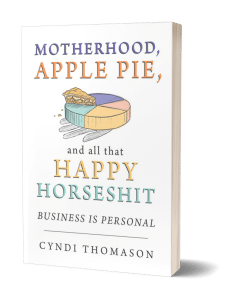 "You're about to discover the recipe for successful momma entrepreneurs."
– Mike Michalowicz, author of Profit First (and a wannabe momma entrepreneur)
Business is Personal
As a Mom, you can have it all and it's better when you do. Using your personal values to create the business of your dreams. By the end of this book you'll be confident in designing a business that supports your family and yourself.  Order Now!