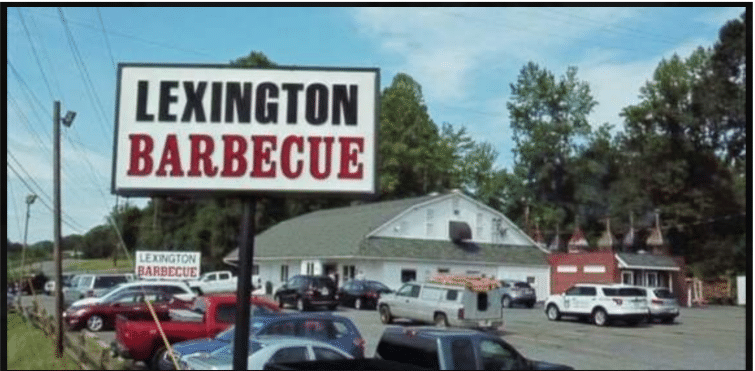 When I grew up, we always stopped to eat at Lexington Barbecue when we went on a road trip. This restaurant started in 1962, the year before I was born. The founder, Wayne Monk, has prepared a barbeque for six sitting US presidents! It is still THE place to eat. A good friend of mine joined me there once years ago and as we drove into the parking lot, he commented that it had the right mix of pickup trucks and luxury cars. 
That's a good rule of thumb, but I recommend that you might want to do some more in-depth research when planning a trip. You'll book a place to stay, find some local restaurants that sound good and might even plan for your bathroom and snack pitstops along the way. Gaining all this local knowledge about your destination ensures you know what to expect and are prepared when you get there.  
Road Trip Research
Cash Flow Forecasting does the same for your business. At bookskeep, we know that you are the expert on your business. We also know that you have so much to do and that numbers may not be your favorite thing. In order to make forecasting a useful and even enjoyable exercise, we take your historical information and build a model.  
Then we discuss our assumptions and talk about how you see your business operating in the future. We talk about your revenue expectations and how you expect sales to develop over the coming weeks and months.  We take a hard look at operational expenses and any changes you foresee. In our discussions, you share your business knowledge and experience, and we share our financial planning and analysis knowledge, and together we create a forecast. 
Depending on your cash flow situation, we can tailor this discussion to be more of an annual planning exercise or a 13-week cash needs analysis. Businesses that are experiencing a shortage of cash need a 13-week plan in order to get through a rough spot. Businesses that have adequate cash benefit from annual planning and quarterly or even monthly adjustments ensure they are moving towards their goals. If you are doing Profit First, we add in your allocations and you can watch those accounts grow.   
When we prepare forecasts for clients, we always get the same response,
 "I wish I had been doing this for years!  This is what I need to help me make decisions." In fact, it has been the very thing that has saved some of our clients from running out of cash or from having to take on additional debt. Often, seeing how the numbers come together helps clients operate more efficiently and frugally.   
Following the Itinerary 
Forecasting is also a great communication tool. If you have business partners or employees, they may not see or understand the financial reports. Getting them involved in forecasting helps them understand the cash situation and how their decisions and actions impact cash and can drive the right kind of "ownership" type behaviors.   
Forecasting can actually be done at any stage of your journey. If you don't have a good handle on your accounting, you may run into a cash shortfall sooner than you expected. The information from your bank accounts can be used to create your forecast. Then when your cash emergency is resolved, you can get on a more solid footing with your accounting.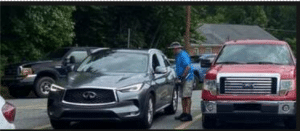 We typically recommend a financial journey that starts with getting your accounting system in place, then adds your Profit First cash flow framework. This will take you far down the road. Then as you grow or want the ability to play out scenarios, it is time for annual forecasting. Maybe you hit a bump in the road and you need to add in the 13-week cash flow forecasting instead. In any case, knowing about the tools can go a long way to making your financial road trip a success.   
You can watch Cyndi explain the Financial Road Trip here in a short 30 minute video!
Interested in Profit First?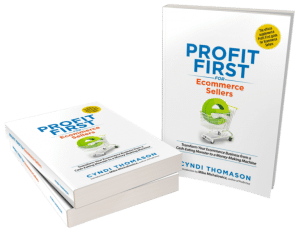 If your ecommerce business isn't where you'd like it to be in terms of profitability, check out my book, Profit First for Ecommerce Sellers. It answers important questions about how to implement Profit First in an ecommerce business. Take control of your money and your business, and put Profit First to work for you!
You can also sign up for the Profit First for Ecommerce Sellers Online Course. As a Mastery Level, Certified Profit First Professional, I will teach you why Profit First works so well for ecommerce businesses and the particular challenges for businesses that have physical products requiring inventory management. You will learn how your behavior drives your money management habits for your business and how you can set up your business bank accounts to work with your habits.
Check out all our ecommerce accounting and profit advising services here!
Do you know about Cyndi's new book?
Motherhood, Apple Pie, and all that Happy Horseshit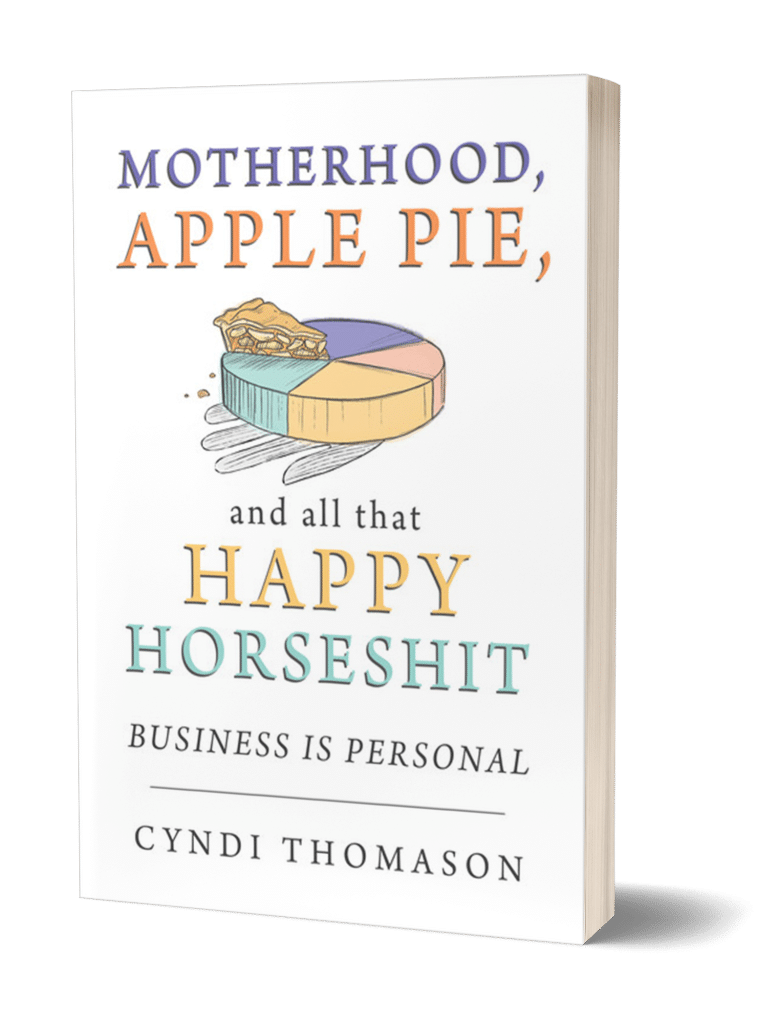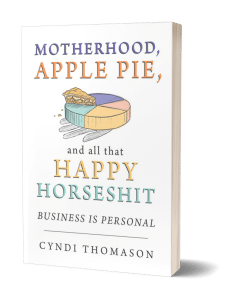 "You're about to discover the recipe for successful momma entrepreneurs."
– Mike Michalowicz, author of Profit First (and a wannabe momma entrepreneur)
Business is Personal
As a Mom, you can have it all and it's better when you do. Using your personal values to create the business of your dreams. By the end of this book you'll be confident in designing a business that supports your family and yourself.  Order Now!