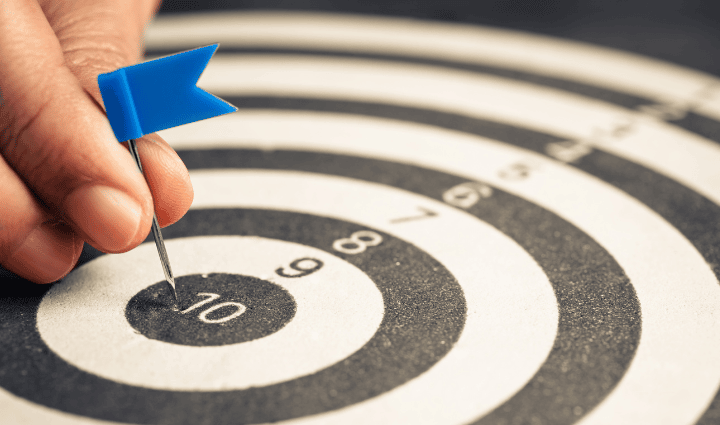 What do you hope to achieve this year in your business and in your life? Do your goals include more profit, more family time, more sales, and more learning? What one thing can you do to ensure the change sticks? Achieving a goal is a process, so let's talk about how to get there.
Understand Your Goals
The most important thing is to keep yourself focused. If you make more than three goals for the year, your attention is going to be too divided to stay on track. However, if we only make one goal, we seem to get stuck waiting for things to play out. Three seems to be the sweet spot to prevent overwhelm and still give you something to focus on.
Clarity is another important piece of the puzzle. You need to set goals that have clear ends so you know when they have been reached. Set goals that require a little stretch, but aren't impossible to reach. Pick some things that will get you excited when you accomplish them.
It's possible that you'll need to work on some goals all year. If this is the case, you'll do much better by breaking your goals down into smaller pieces that you can accomplish every week or month. Consistent baby steps are going to produce better results than a burst of action a handful of times a year. You can also try blocking out time on your calendar for these goals to make sure you're not putting off the work.
Create New Habits
Oftentimes, we have to break old habits and establish new ones to set ourselves up for success. If you are more productive in the mornings, set that time aside for goal work. If the afternoons are better for you, block out that time. Maybe even plan to work with a partner to keep you on track. Exercise is a chore for me, but knowing my work out partner is waiting for me gets me up and out the door on the mornings when I would rather hit the snooze button.
The same thing is possible with work goals. If you are easily distracted by emails or little notes that pop up, set up a time to get on a call and work with a colleague. Just checking in and sharing what you want to accomplish in the hour you work together will keep you on the right track. Cut off the notifications, check in and take a small break at the half hour, then get back to work.
Financial Goals
If you're setting financial goals this year, my suggestion is to look at your yearly numbers and break them down to quarterly or monthly. Look at the smaller pieces and ask, "What must be done to make this happen?" Don't focus on increasing sales or profit by a certain percentage. It's meaningless and you want to be clear about what action has to be taken to hit your new sales number.
I choose to look at it from the perspective of, "What are the easiest things I can do that will have the most impact on improving revenue?" If I succeed, how will this financially impact me? Always look at the low-hanging fruit first. They are the things that will make everything easier and better once out of the way. You can also consider improvement in efficiency and cost-cutting of innovation. These are things that start to add up to dollars.
A new year is the perfect time for a fresh start. Keep yourself focused and make a real change in your business in 2023. Whether it's goal setting, making a plan, or just finding some financial peace of mind, we are here and ready to help. Reach out to the bookskeep team today!
Interested in Profit First?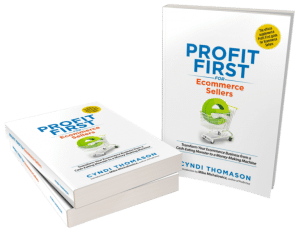 If your ecommerce business isn't where you'd like it to be in terms of profitability, check out my book, Profit First for Ecommerce Sellers. It answers important questions about how to implement Profit First in an ecommerce business. Take control of your money and your business, and put Profit First to work for you!
You can also sign up for the Profit First for Ecommerce Sellers Online Course. As a Mastery Level, Certified Profit First Professional, I will teach you why Profit First works so well for ecommerce businesses and the particular challenges for businesses that have physical products requiring inventory management. You will learn how your behavior drives your money management habits for your business and how you can set up your business bank accounts to work with your habits.
Check out all our ecommerce accounting and profit advising services here!
Do you know about Cyndi's new book?
Motherhood, Apple Pie, and all that Happy Horseshit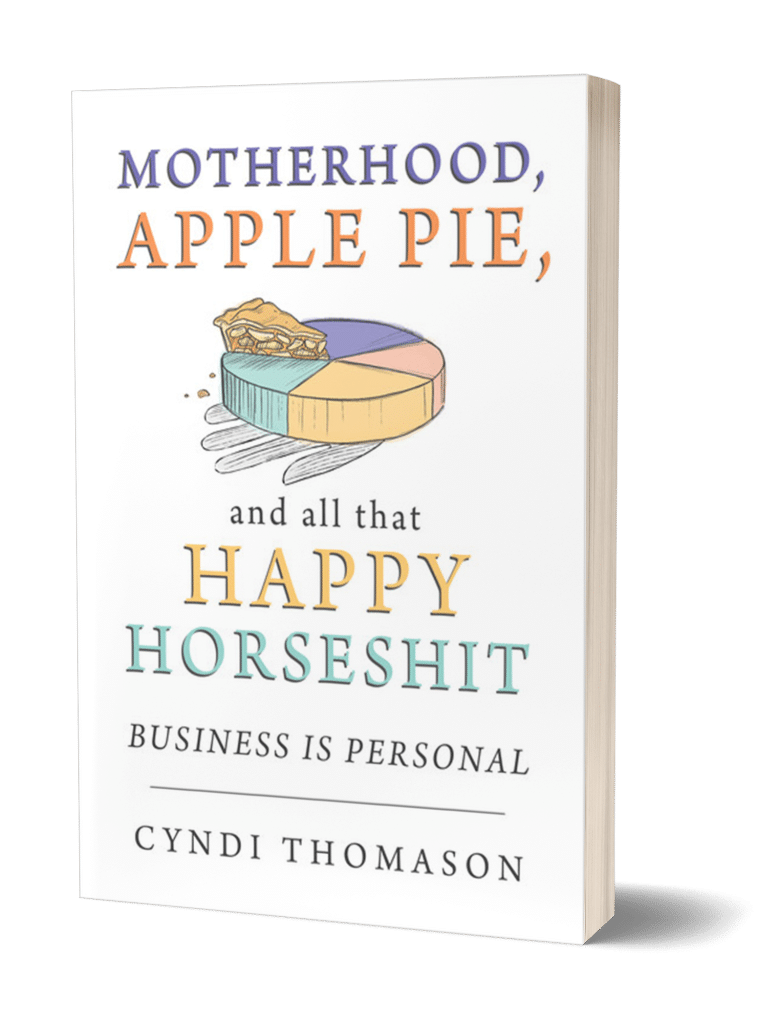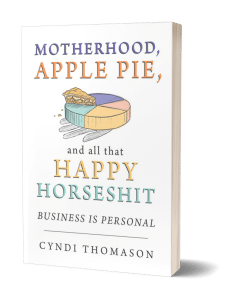 "You're about to discover the recipe for successful momma entrepreneurs."
– Mike Michalowicz, author of Profit First (and a wannabe momma entrepreneur)
Business is Personal
As a Mom, you can have it all and it's better when you do. Using your personal values to create the business of your dreams. By the end of this book you'll be confident in designing a business that supports your family and yourself.  Order Now!