Let's be honest. Sitting down to pay bills is no one's idea of a fun time, so can we at least make it easy? That's what Relay has done! We have been working with Relay ourselves and love the convenience and affordability. You can learn more about their overall banking service from our earlier blog. Today I want to highlight their bill pay service.
Making Bookkeeping Easy for Ecommerce Owners
As an accounting firm, we are happy to help our clients with their accounts payable. Where we have to draw the line is actually processing payments, as it withdraws money from the client's account and I, as a business owner, am reluctant to take that step because of the liability. We want to serve our clients well, so how can we make it easy for the client and not cost a fortune?
Let's talk about Easy first. Relay integrates with QuickBooks Online and Xero. So bills that you need to pay via check or ACH can be entered in your accounting system. In Relay, these vendors can be selected to import directly into Relay's payment page in their Online Banking website. For clients that request bill pay service from us, we enter the bills in the accounting system for them.
Here is a screenshot where I reimbursed myself for a purchase last month. This shows that the payment is in progress and it shows that I have another bill that has been imported and needs to be approved and paid.


Under the Action Items Section, if I select the unpaid bill tab, I am taken to a page with more details where I can either initiate payment or mark as paid (if I paid with a credit card, PayPal or paper check). I can also look at the bill in my accounting system by selecting View Bill.
If I had rules set up, I would approve the bill and the authorized bill payer, and my accounting team would pay the bill. When our clients use this feature, the client approves the bill and we process the payments. The Action Items section lets you know what you need to do next and where bills are in your payment process.


There are two features that make this work smoothly. First, it is directly integrated into your bank and accounts payable accounts in QBO or Xero, so you do not have to use clearing accounts. Bill.com is a service we also use for bill payment and it uses clearing accounts, which can create confusion in the chart of accounts. In addition, the setup for your accounting service is easy. You simply select the Team tab, select Advisors and enter their email address and permission level. Then you're ready to go! So Easy!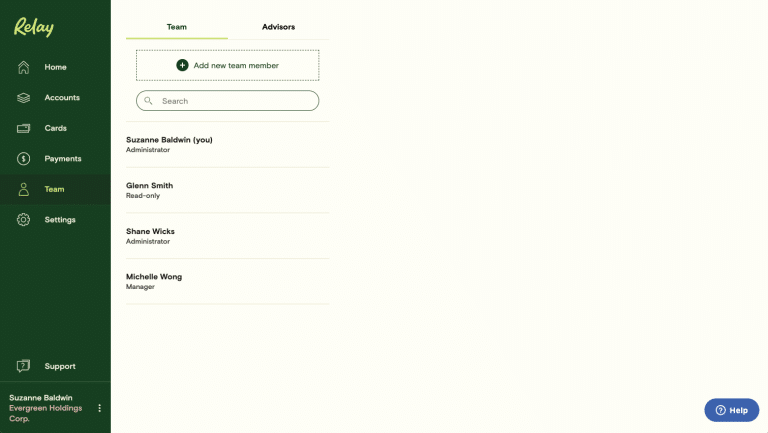 Relay was built with small businesses in mind. They approach their banking from a technology perspective. Ease of use and collaboration with your accounting firm was built in based on the needs they saw with small business clients. We love it for our ecommerce clients because we know you love flexibility.
So, How Much Does This Cost?
Let's break it down:
There are no banking fees for having multiple Relay accounts.
There is a $25 fee for the bill pay service which includes the integrations with QBO or Xero and
the approval/permissions.
There are no fees for ACH or check transactions.
There are wire fees for both domestic and international wires as shown below.
In addition to easy and affordable, I'm really impressed with their customer service. If you're interested in an account, you can use my link. This is not an affiliate link. I'm happy to support them as they are making it easier for us to support our clients!
Interested in Profit First for Ecommerce Bookkeeping?
If your ecommerce business isn't where you'd like it to be in terms of profitability, check out my book, Profit First for Ecommerce Sellers. It answers important questions about how to implement Profit First in an ecommerce business. Take control of your money and your business, and put Profit First to work for you!
You can also sign up for the Profit First for Ecommerce Sellers Online Course. As a Mastery Level, Certified Profit First Professional, I will teach you why Profit First works so well for ecommerce businesses and the particular challenges for businesses that have physical products requiring inventory management. You will learn how your behavior drives your money management habits for your business and how you can set up your business bank accounts to work with your habits. Contact bookskeep today for more information on ecommerce accounting and bookkeeping.