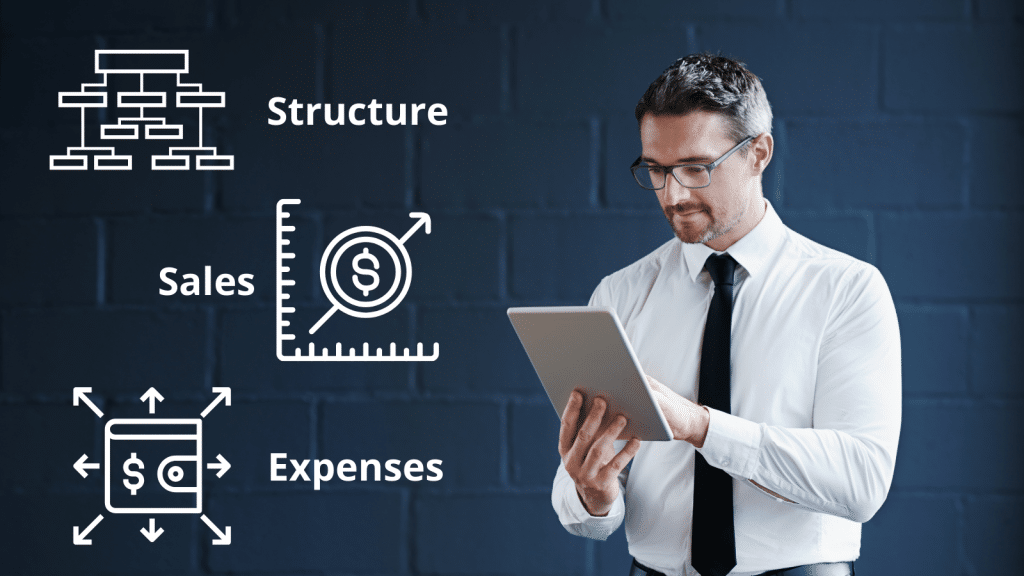 Yes, your product is awesome! But behind-the-scenes of every awesome product, you'll need to ensure your business is set up to support you and your efforts on the entrepreneurial adventure. Things like your sales channels, support tools & systems, processes and your teams are all part of an important equation. Without these items, you'll have an uphill battle. With these in place, you'll have the wind at your back, giving you a boost.
This week, we will be starting with some of the most critical parts of building a strong foundation for your business: structure and taxes, and sales and expenses. The lists that follow are not all encompassing, but they will give you a jump start for where and how to start thinking about your new business.
Business Structure & Taxes
There are several things that need to be considered before you begin to start building your business.
Understand State Requirements
Each state has different regulations, laws, licenses, and requirements for doing business. It's important that you do your research and understand what you will have to prepare for in your state. The IRS has a great starting point to find information across each state that can be found here.
Decide on Corporate Structure
Discuss this item with your CPA as there are different tax implications for your chosen structure. This decision could be influenced by your personal tax situation as well. You can find information on the SBA's business structure overview and why you might choose one over another here.
Setup EIN
For US-based companies The Employer Identification Number (EIN) is also known as the Federal Employer Identification Number (FEIN), or the Federal Tax Identification Number. It's like the social
security number for your business and you should get it as soon as possible. You'll need it for things like setting up bank accounts and signing up for sales channels like Amazon and Walmart.
Setup Sales Tax
Each state has different rules and different remittance schedules to follow usually based on sales volume, unit volume, or sales channel. Be sure to check on your state specifics. You can also automate some of this process using SAAS tools (which are an additional expense) or you can manually file (which can be tedious and time consuming, but saves money).
It's important to note that if you are selling on a marketplace like Walmart or Amazon, you should be sure to read up on Marketplace Facilitators. Most marketplaces will remit sales taxes for your sales – so different rules may apply if these are your only sales channels. You can find a good sales tax overview/guide here.
Sales & Expenses
Understand Cash Needs & Sources
The equation is simple, but it can be tricky to calculate the components: cash-in and cash-out. You need to know how much you need, and where the cash will be sourced.
You'll Need:
Cost of Sales: Understand expenses like fulfillment, shipping to the customer, warehousing, storage, and marketplace fees. What are the required expenses to sell the product?
Product Costs: Develop numbers for the first order, as well as the second order. For example, you may only need photography/image work with the first batch. Make sure to include ALL components (manufacturing, packaging, customs, freight, etc).
Operating Expenses: Estimate your initial startup OpEx and your on-going/recurring OpEx.
Other Costs: Give special consideration to PPC/advertising costs. While not required, ecommerce is often a pay-to-play experience in order to show up in search results. Make sure to build in advertising costs into your profitability analysis. If the product is not profitable with advertising costs, you'll need to revisit proceeding, or proceed with caution.
You should get clarity on where your initial cash will be sourced (i.e. personal savings, bank loan, Uncle Bob loan). If applicable, add interest to be paid in your OpEx calculations. You'll want to ensure you have enough money to get running AND cover the costs of at least two manufacturing runs.
Setup Sales Channels
Without sales channels, you won't have a place to sell any products! Where and how do you plan to sell? Direct to consumer? 3rd party marketplaces? Ecommerce only? Wholesale? Farmer's markets? There's a good chance you'll sell on your own website. Website management becomes easier by using platforms such as Shopify, BigCommerce, or Squarespace.
Then there are 3rd party marketplaces like Amazon, Walmart, and Target. Selling in these marketplaces comes with its own set of rules, requirements, logistics, and pricing. The opportunity is big – but it comes with a big time & support requirement. And depending how hands-on or not you plan to be, it might also come with additional expenses – like for listing management. Depending on your products, you may also choose to sell in niche channels like Chewy (pets), Faire (wholesale), NewEgg (tech-focused), Poshmark (fashion), and others.
Setup Payment Processing
Most marketplaces like Amazon and Walmart will take care of payments. For channels, such as Shopify, you'll be able to select from a variety of payment processors. Some of these include Amazon Pay, Stripe, and PayPal. You may even choose to integrate payment processing via big banks like Bank of America or Chase.
Fulfillment Method Decision
The various methods will each have their pros & cons, savings & costs, management & logistics considerations. It's also not all or nothing, or even a static decision point. You may start off packing your own products out of your house and evolve into different done-for-you solutions as you grow.
Some of the decisions will be influenced by your sales channels. For example, on Amazon you can sell using Fulfilled by Merchant or Fulfilled by Amazon AND you can also use Amazon's Multi-Channel Fulfillment option for your Shopify store. Dig in to the benefits and costs associated with questions like:
Will you pack and prep and ship from a home office?
Will you only sell using Amazon's FBA program?
Are you using a 3PL to handle all your fulfillment & shipping?
You should also explore shipping solutions. These types of shipping platforms can aggregate orders from multiple sales channels and allow you to do things like buy postage, integrate shipping partners like USPS/Fedex/UPS and print labels.
We know this is a lot to think about when just getting started in the ecommerce business world, but these are important decisions to make if you want to ensure a strong setup for a business that will work for you. Stay tuned for next week when we will discuss the tools & systems and team member components of the business setup!
As always, the bookskeep team would love to help! If you are wondering where to begin, or want to set yourself up for success from the start, reach out to us today!