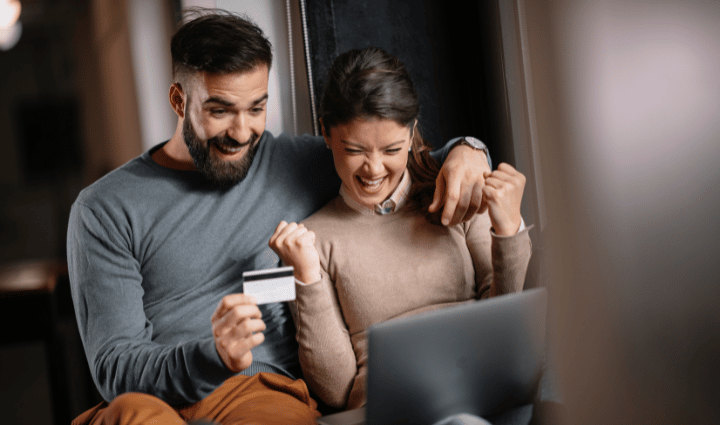 One of the primary goals of owning a business is to pay yourself. A few of the questions we get all the time are, "When can I pay myself? and "How much?" With Profit First, this is a simple math problem, so sharpen your pencil and get ready to get personal.
How Much Do I Pay Myself
To answer the question of, "how much", we must start with your personal income needs. How much income does it take for you to cover your basic personal expenses? You may already have that number in mind. If not, pull out your bank statement, look at your expenses, and make a quick budget of the expenses you pay each month. Mortgage/Rent, Utilities, Food, Insurance, etc.
Think too about those expenses that you pay on a quarterly or annual basis. Get them all on a monthly basis and total them up. Do a reality check, before you set that number aside. This is not your dream lifestyle, that can be calculated later when your business is soaring. This is a budget for what it takes for you to live a comfortable life and meet your expenses.
Next consider if you can build in some additional funds for "extras".  This might include a vacation for your family, savings goals for retirement, and setting aside savings for car repairs or to purchase a new vehicle. It is nice to have these numbers in mind, even though you may have to add them into your plan a few months down the road. We have a simple personal budgeting tool that you can use to help you think through these expenses. Click here to download the tool.
Let's move on to the second step. In this step we will reverse-engineer your profitability using some Profit First formulas and your information from your business financials. The best way to understand these formulas is to look at a couple of examples. Let's assume that you would like to pay yourself $100,000 each year. Let's also assume the gross margin in your business is 40 percent. With just these two pieces of information, we can do a quick reality check to determine if your business is in a position to pay you at this level.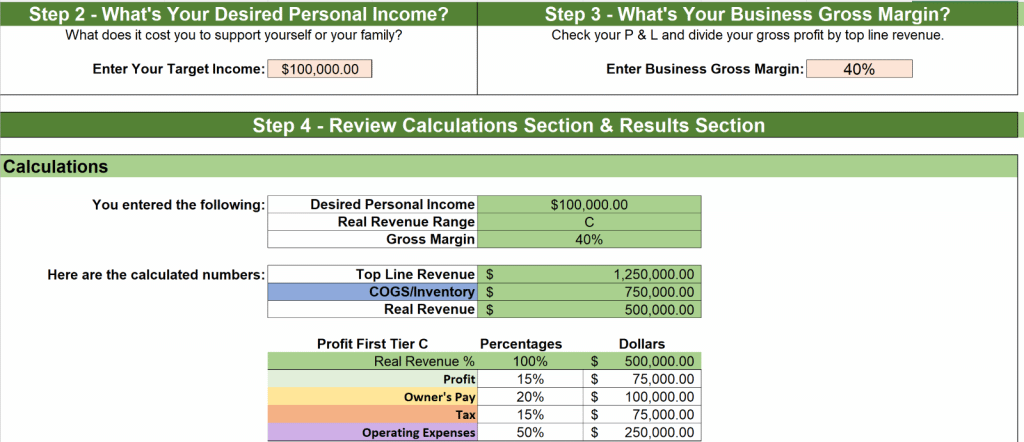 Based on Profit First formulas for a healthy business, we can see that with a 40 percent gross margin, your top line sales or top line revenue will have to be at $1.25 million. This figure will mean $750,000 is going to buy inventory and you have $500,000 to cover all other aspects of your business. This includes your profits of $75,000, Owner Pay that you need of $100,000, Taxes at $75,000, and all other operating expenses, including advertising for $250,000.
You may look at this and say how do you come up with these numbers. These numbers are based on the research that Mike Michalowicz presented in his book, Profit First. The table below shows, once you have calculated your "Real Revenue" range (this is the number after you have paid for your inventory and other costs related to your products), how your business expenses should line up in the main categories as your business grows its Real Revenue. Our example above puts us in the Profit First Tier C shown in the chart below.
A key component here is that this model is for a healthy business. I see it reported all the time that businesses operate with less profit or owner pay etc. You can do that, but Mike looked at thousands of businesses and built the model based on those that were serving their owners and had longevity.  We assume you want to build a healthy business.
Let's look at one more example so you can see how you can change an assumption and land in a different spot. We will keep our Owner Pay at $100,000 and only change the Gross Margin down to 20 percent. You can see from the chart below that lowering our gross margin has a huge impact on our expected sales. The first example had a gross margin of 40 percent that equated to Tier C in the Profit First Chart and we had a Top Line Revenue of $1.25 million. The second example, using 20 percent moved us back to Tier A in the Profit First Chart with a Top Line Revenue of $2.5 million. That means your sales have to double to get to the same place with our Owner Pay.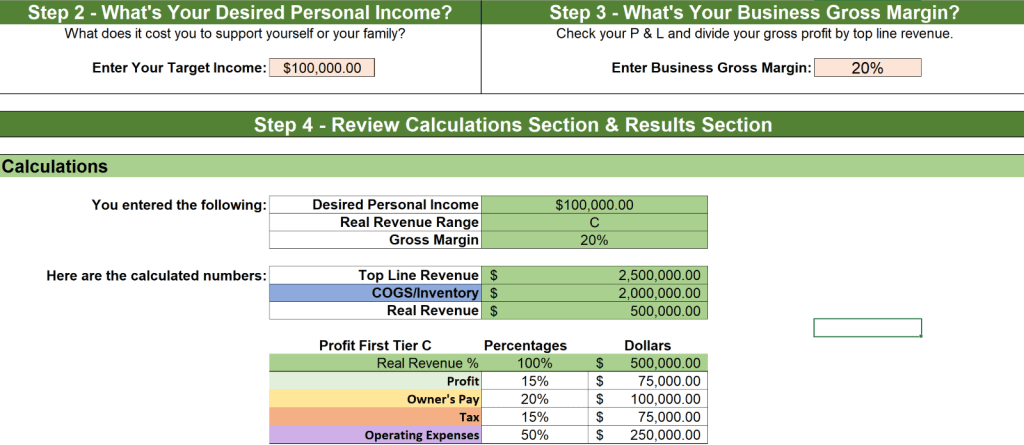 We have provided the Owner Pay Calculator so that you can add in your numbers and understand how they impact your ability to pay yourself.  Click here to download.
When Can I Pay Myself
Here are some considerations for you as you analyze your numbers. First of all, if you have a gross margin of less than 30 percent you are likely to have cash flow issues in your business. Make a plan to improve your margins and that will make implementing Profit First and paying yourself much more achievable. In our experience, businesses below the 30 percent level are relying on debt to keep their cash flow working.
The second consideration is whether it's possible to achieve the level of sales needed. Take off the rose-colored glasses and get real with yourself. The level of stress in not meeting your family's budget expectations is considerable.
Next, consider how confident you are in the gross margin you modeled. If you have kept up with your bookkeeping, and are using the accrual method at least for revenue and cogs, then you will have a gross margin number suitable for this exercise. If not, take a look at the article we have on accrual vs. cash to ensure you understand the importance of this approach to understanding profitability in your business. Click here to download.
Finally, consider your cash position. As you are planning your paycheck, can your business afford to take the cash out of the business? It may take a bit of time to get your business ready based on the factors above to ensure there is cash to consistently meet your needs. One way to ensure that you can reliably take funds from the business for your pay is to set up a bank account for Owner Pay.
Before you count on a paycheck to meet your personal needs, start funding that Owner Pay account at the level you require. If you are able to do that consistently for three months, then you have built up a little bit of a buffer so that when and if you run into a hiccup, you're covered.
As you can see, paying yourself should not be left up to chance. Your family is counting on you, so take all these considerations into account as you make this important decision for both your business and for your family.
If you need help crunching the numbers or getting your business set up to pay yourself, we are here for you! Reach out to the bookskeep team today!
Interested in Profit First?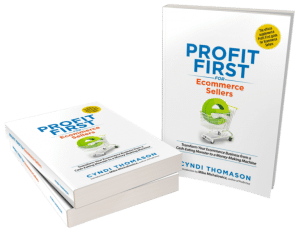 If your ecommerce business isn't where you'd like it to be in terms of profitability, check out my book, Profit First for Ecommerce Sellers. It answers important questions about how to implement Profit First in an ecommerce business. Take control of your money and your business, and put Profit First to work for you!
You can also sign up for the Profit First for Ecommerce Sellers Online Course. As a Mastery Level, Certified Profit First Professional, I will teach you why Profit First works so well for ecommerce businesses and the particular challenges for businesses that have physical products requiring inventory management. You will learn how your behavior drives your money management habits for your business and how you can set up your business bank accounts to work with your habits.
Check out all our ecommerce accounting and profit advising services here!
Do you know about Cyndi's new book?
Motherhood, Apple Pie, and all that Happy Horseshit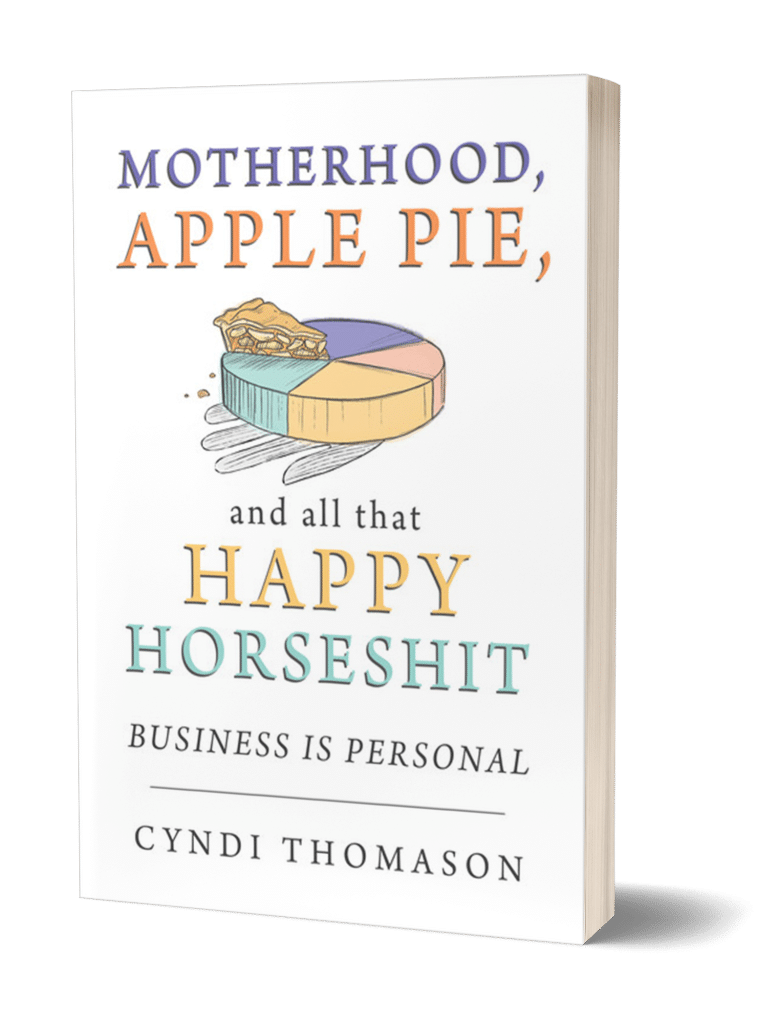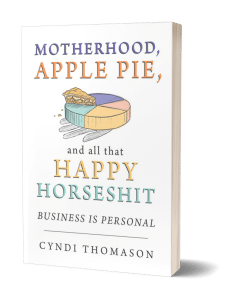 "You're about to discover the recipe for successful momma entrepreneurs."
– Mike Michalowicz, author of Profit First (and a wannabe momma entrepreneur)
Business is Personal
As a Mom, you can have it all and it's better when you do. Using your personal values to create the business of your dreams. By the end of this book you'll be confident in designing a business that supports your family and yourself.  Order Now!