In this series on Using Your Financial Statements, we've talked about the Profit and Loss Statement, Balance Sheet and Cash Flow Statement. Now let's look at how they are connected and what makes them profitability drivers your ecommerce business accounting.
The 5 Drivers and Where to Find Them
This simplified financial statement graphic shows how Cash from your Cash Flow Statement is reflected in the Asset section of your Balance Sheet. You can also see the Earnings from your Profit and Loss or Income Statement are shown in the Equity section of the Balance Sheet. As Keith J. Cunningham describes in his book, The Ultimate Blueprint for an Insanely Successful Business, The Cash Flow Statement and the Income Statement are like street maps where you see the details and The Balance Sheet is like the world atlas, where you get to see the big picture.

Understanding that these statements are interconnected can help you know where to go for the information to best monitor the five drivers of cash. As ecommerce business owners, we're always wanting to keep operating cash flow positive and growing. Growing the cash balances is what gives us the opportunity to grow our inventory and ultimately grow our businesses. Let's look at each of those accounts that drive cash flow so you can examine your business and determine your greatest opportunities for improvement.
Drivers 1 and 2: Revenue and Expenses
We will find two of the ecommerce profitability drivers in the Income Statement. They are—Revenue and Expenses. Looking at the Revenue side, we can use the 5 Core Needs from the Sales Level of our Fix This Next Assessment (go here to take this free assessment) to ensure we are generating cash consistently. These 5 core needs are:
Lifestyle Congruence
Prospect Attraction
Client Conversion
Delivering on Your Commitments; and
Collecting on Commitments
To learn more about each of these, look into my Fix This Next Series blog about the Sales Level. As you think about Prospect Attraction and Client Conversion, pay attention to frequency of purchases, repeat purchases, pricing, size of transactions and opportunities for upsell.
For the Expense section of your Income Statement, of course you must monitor your COGS. Are your product costs low enough to generate good margins? For ecommerce businesses, we must also monitor our Cost of Sales, our Advertising Costs and Fees charged by our sales channel platforms. Advertising can take all your margin if you're not careful. You must look at your overhead costs and interest costs. Often product margins are so slim that they don't really allow for the high interest loans that many have taken out. From the Fix This Next Framework, we look at the Profit Level to address many of these issues (check out the Profit Level blog here). The 5 core needs in this level include:
Eradicating Debt
Improving Margin Health
Improving Transaction Frequency
Profitable Leverage; and
Building Cash Reserves
Driver 3: Receivable Days
The other three ecommerce profitability drivers for operating cash flow can be found on your Balance Sheet. The first is Receivable Days. As ecommerce sellers, we have little control over this. The platforms dictate those terms typically. Make sure you understand what your options are and that you have optimized the payment terms as much as possible.
Driver 4: Inventory Days
Inventory Days is a driver that requires your attention. What is your reorder frequency? Can you work with your suppliers to get better terms, including smaller order sizes, better prices? Are there hidden costs regarding shipping or customs? How will you handle inferior product? Shrinkage. Are you working together with your suppliers as partners? Can they offer you discounts if you pay in cash or buy in volume? Basically, explore every aspect of your supplier relationships to improve your inventory costs not only for the product but for holding and carrying the inventory.
Working with our clients from the Profit First perspective, we look at existing products, starting with the top 20% of sales (dollars and orders) to ensure they are achieving an appropriate gross margin. If not, we start looking for areas to improve, by adjusting price, renegotiating shipping or production costs, etc. We then look at the lowest 20% of sales and see if the costs of carrying these items justifies the use of our cash. Concentrating on this driver allows you to make small changes that yield big results.
Driver 5: Payable Days
The final driver is Payable Days. What can you do to stretch the payments at no penalty? Can you negotiate longer terms, adjust payments to weekly, not daily and make sure you avoid late charges? There are many options available now for funding that gives you 60-90 days of no interest. If you're considering these, make sure you're using this debt wisely. Debt can be helpful if it's used as a bridge, paying for inventory knowing your settlement comes in a few days. It can also help if you get good terms and you've done your homework to ensure a positive return on your use of the funds. Debt should not be used as a last-ditch effort to save the business. To save your personal credit, do not take risks with debt when you're unsure of making a return.
This concludes our series on Using Your Financial Statements. I hope you found the deep dive into each statement helpful and that this blog ties it all together for you. If you want to go back and read all fours blogs in this series, you can start on our blog page here. If you have issues with cash flow and profitability or want to understand your numbers better, we'd love to talk with you about how bookskeep can help.
Interested in Profit First for Ecommerce Bookkeeping?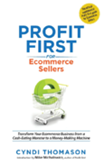 If your ecommerce business isn't where you'd like it to be in terms of profitability, check out my book, Profit First for Ecommerce Sellers. It answers important questions about how to implement Profit First in an ecommerce business. Take control of your money and your business, and put Profit First to work for you!
You can also sign up for the Profit First for Ecommerce Sellers Online Course. As a Mastery Level, Certified Profit First Professional, I will teach you why Profit First works so well for ecommerce businesses and the particular challenges for businesses that have physical products requiring inventory management. You will learn how your behavior drives your money management habits for your business and how you can set up your business bank accounts to work with your habits. Contact bookskeep today to learn more about ecommerce bookkeeping and accounting.