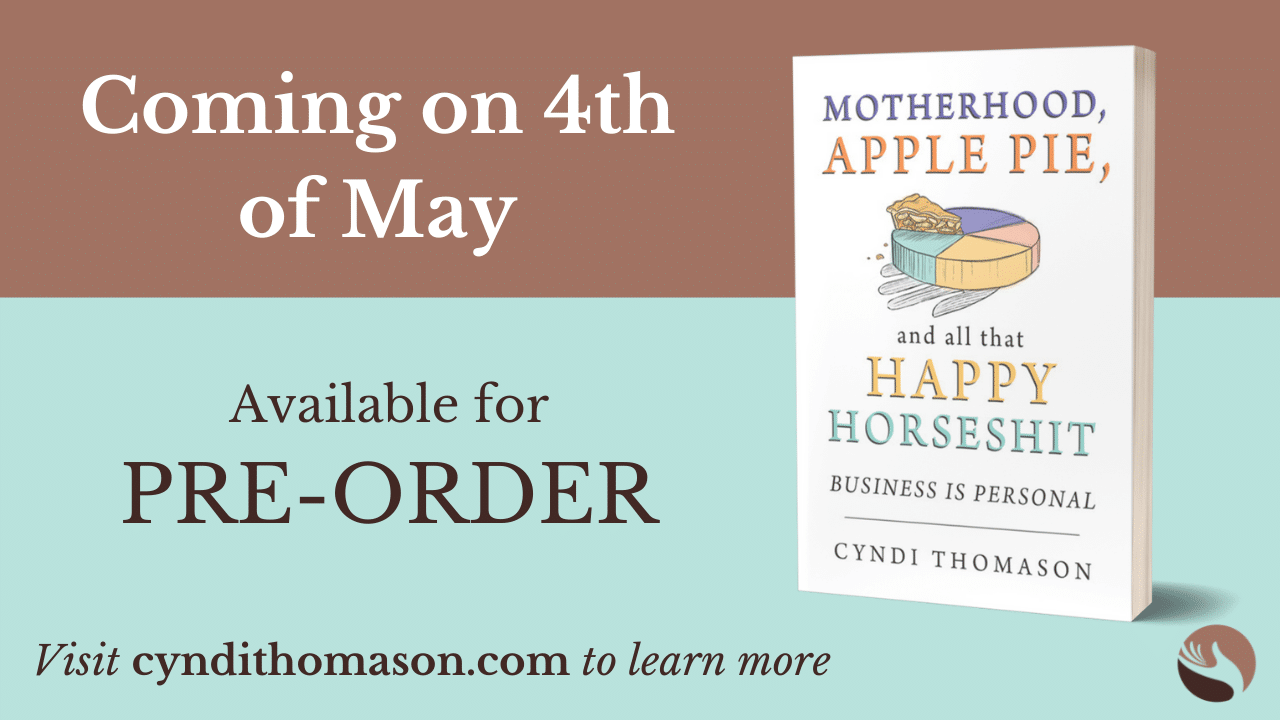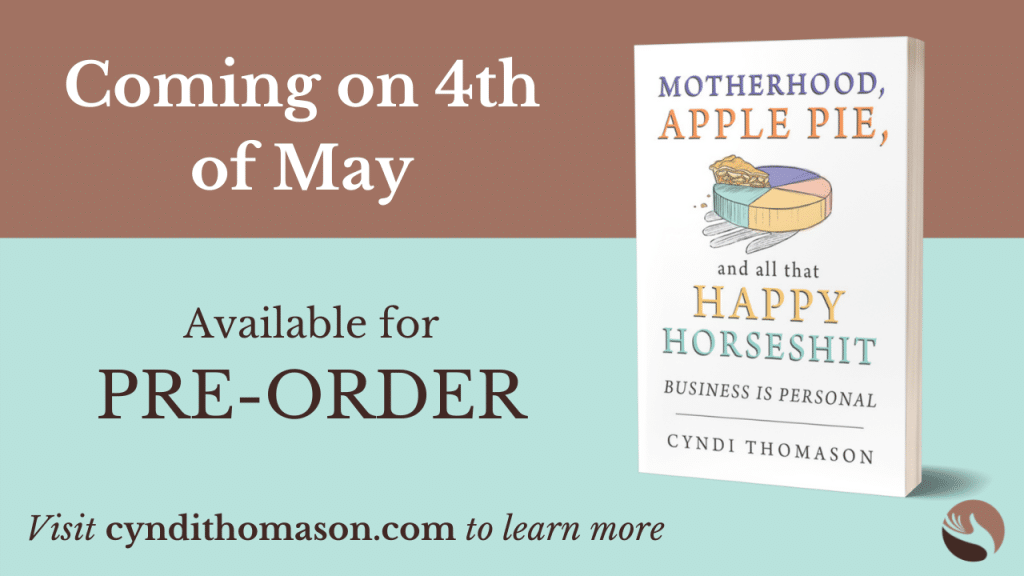 Cyndi's New Book Is Almost Here
I am thrilled to announce that my latest book, Motherhood, Apple Pie, and All That Happy Horseshit will be available to purchase on May 4th, just in time for Mother's Day! This book is perfect for that mom or soon-to-be mom who is considering starting a business (or already has one) and is hoping to create more flexibility so she can be the mom she wants to be.
We will be doing some fun things leading up to May 4th, so please sign up here for Pre-order Updates to be notified about pre-order bonuses, online as well as in-person events that will be held in the coming weeks.
A Book For Working Moms
For the moms who read this book, I want you to understand that YOU CAN HAVE IT ALL! You can be the mom you hold as ideal in your mind, while also pursuing your professional or business goals. In fact, I know that both your personal and your business worlds will benefit from integrating your mothering and your business roles. The values that each of us hold can guide you in creating a business that supports your role as a mom. In my book, I show you how these two worlds intersect and grow together in ways that make both endeavors richer and more meaningful.
This book is partly my own story as a mom to my daughter Alaina, who is now a grown up figuring out how to accomplish her own dreams. It is also the stories of eleven other moms who have been down this road and are willing to share their wisdom and tips so that other new moms can go forward with confidence.
What You Can Expect
One key principle in the book is Sacred Space. In our busy lives, we often neglect to assess what truly matters to us, leaving our hearts unfulfilled despite the fullness of our days. This busyness also influences our children, as we inadvertently teach them to prioritize constant activity. Sacred Space holds great importance for all individuals, but as mothers raising young ones, it becomes even more crucial. By helping our children discover what truly matters to them instead of simply filling their time with various activities, we elevate the purpose of Sacred Space in our lives.
I understand that you may feel overwhelmed with your already-packed schedule as a mom. That's why we have dedicated an entire chapter in the book to provide time management strategies specifically designed to assist moms.
I'm incredibly proud of my book and the initial feedback I've received from early readers. They have begun examining their personal and professional lives, realizing that integrating the two can reduce stress and create a more fulfilling experience. I aspire for every mom and their children to achieve this enriching balance in their lives!
Please sign up here so you can be part of the fun we create between now and May 4th!