It's a pain recording all the details of your Amazon Deposit into Xero or QuickBooks by hand. We have the solution for you. A2X is an amazing technology that pulls your data and crunches the data to generate a summary deposit.   Once the summaries are generated, it pushes them into your Xero or QBO accounting system. We work with Amazon clients to help implement A2X into your bookkeeping and run your business efficiently.
New QuickBooks Integration and COGS Tracking
A2X has been a great product for Xero users for years. In early 2017, A2X completed their beta testing for their QuickBooks Online integration. In May of this year, they released the new QuickBooks integration so you can now leverage the power of A2X software to crunch your Amazon sales data and send the summary information to the accounting system of your choice. Whether you use Xero or QuickBooks, we carefully map the A2X software export data to the accounting software accounts so we can ensure that data flows into the proper A2X accounts.
Another new feature that is currently in Beta testing is the ability to track your product costs in A2X. Once you have loaded your product costs, A2X will monitor the value of new inventory as it arrives at Amazon and will create the proper entries to record the Inventory arrivals and Cost of Goods sold on your books. This is a great feature that we are testing with our clients now. It is anticipated to be launched within the next several weeks. This feature will assist with one of Amazon Sellers' biggest challenges – Inventory. To ensure that the data is accurate, we help our clients understand their product costing, we map accounts to the accounting software and we assist with maintaining the data in the system to ensure proper accounting results.
Benefits of A2X
Biggest Benefit: Saving Time. We're all aware how valuable time is in our lives. As an Amazon seller, you need a quick fix to reduce the admin time and pain of manually entering Amazon data. Spending manual hours transferring data from your Amazon account to your QBO or Xero accounts can be tedious. A2X is a quick fix to this problem because you can do all of this in just five minutes. Your Amazon settlements will be accepted by the click of a button in Xero or QBO. Time saving allows you to concentrate on other important aspects of your business like creating new products to sell on Amazon or developing your long term business goals.
Accuracy. This tool gives you precise monthly financials for your Amazon sales and breaks down your Amazon settlements to match the exact amount of money in your e-commerce business account. Returns, shipping costs, sales tax and other complex Amazon fees are accurately detailed into Amazon's settlement journal entries.
Clarity. Your sales, fees and COGS statements get matched correctly and are put into the appropriate period. This tool is an incredibly reliable way to post your income properly. You deserve to have a clearer picture of your financial results to plan your steps towards profitability.
International. This software works with all Amazon marketplaces and currencies worldwide. Currencies are converted automatically to the country currency your transactions come from. This helps you expand your business overseas and track your money effectively. We work with you to help you set up the currency conversion clearing accounts and ensure they track the transactions from the originating currency into the dollars that hit your bank.
Pricing Packages
A2X gives you a free demo with no credit required. Their four tier pricing means there is a package that is right for your business
Mini – lowest price available – $19 per month. This package allows you 1 Amazon account with 1 Amazon marketplace and can track up to 200 orders per month.
Starter – starting at $39 per month, you can manage 1 Amazon account in 1 Amazon Marketplace with up to 1,000 orders each month.
Standard – most common choice which is priced at $59 per month. It allows 1 Amazon account with up to 5 Amazon marketplaces. You can track up to 5,000 orders per month.
Premium – the biggest package you can buy is priced at $149 per month with 1 Amazon account in 5 Amazon marketplaces. This package differs from the standard because it offers priority support, personalized account setup and can manage up to 10,000 orders per month.
Focus on Profitability
Using this software helps us efficiently reconcile Amazon sales so we can focus our efforts on helping your business grow. Using consistent, accurate financial reports enables us to pinpoint the factors driving profitability in your company. Let's take the stress out of creating business financials and grow your business.
Want to book an appointment? Contact us now!
Interested in Profit First?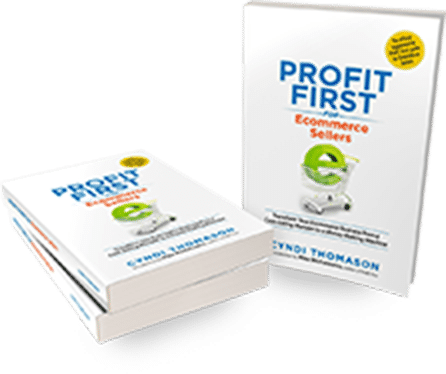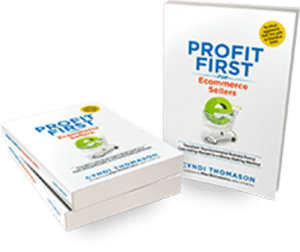 If your ecommerce business isn't where you'd like it to be in terms of profitability, check out my book, Profit First for Ecommerce Sellers. It answers important questions about how to implement Profit First in an ecommerce business. Take control of your money and your business, and put Profit First to work for you!
You can also sign up for the Profit First for Ecommerce Sellers Online Course. As a Mastery Level, Certified Profit First Professional, I will teach you why Profit First works so well for ecommerce businesses and the particular challenges for businesses that have physical products requiring inventory management. You will learn how your behavior drives your money management habits for your business and how you can set up your business bank accounts to work with your habits.
Check out all our ecommerce accounting and profit advising services here!