In our third video blog of our financial statement webinar series, we are discussing the Balance Sheet. This statement holds a lot of valuable information about your business from its inception, so understanding it is a crucial piece to success.
What to Review on Your Balance Sheet
Let's dive into the Balance Sheet and the important numbers to look at on this statement.
This week's video will cover:
Cash
In the form of your bank accounts, cash is considered an asset on your balance sheet. If you're using Profit First, which I always highly recommend, the cash assets on your balance sheet will show the balance of your bank accounts that you have set up for the various "buckets" in your business. This is the best way to look at your bank accounts and have instant information about how you're doing. By using the Profit First method, you are able to more clearly understand your profitability without having to do all this counting. That gives you so much visibility into what's actually happening in your numbers. If you compare this section of your balance sheet, last year to this year, you might see that cash in these accounts has grown, which will provide more accurate information about your actual growth than what you might see in your P&L only. But you can't leave it at that. In order to fully understand where that cash growth has come from, you have to dig into the liabilities section of the balance sheet. If you borrowed money, then your cash may increase, but it is not the result of sales growth or profitability. The asset and liabilities sections are critical in putting the puzzle together.
Inventory
Inventory is also shown as an asset of your balance sheet. Again, you'll want to compare this year to last year to see how the numbers differ. Whether they are significantly up or down, you need to dig into the history and determine what happened. Was it a deliberate decision to increase or decrease your inventory this past year? Were there issues in getting your products delivered? Understanding the issues here will help to understand your inventory numbers and how they play into the rest of the story.
Liabilities
The liabilities section of your balance sheet is important because it shows you how well you're staying on top of your debt, or not. Debt includes such things as outstanding loans, credit cards, and outstanding accounts payable for inventory, etc… As with the entire balance sheet, you're looking for anomalies, things that are spikes, or trends that help you understand how things are going. For example, this section can tell you how well you're operating using credit cards over the month. Are you keeping a handle on the balances, or do you see them growing? Steady increases in credit card balances can indicate that you're not able to pay credit card balances each month. If that kind of situation is starting to happen, then that means you may not be generating enough cash in the business to operate without having to use credit card debt. This is certainly not the best way to use debt in the business.
Equity
The bottom section of your balance sheet is where you're going to see the equity part of the business. This is the scorecard from the day you opened your business until now. Everything that's happened over time ultimately ends up on the balance sheet and we can see the results in our bottom couple of numbers. Retained earnings is over the life of the business. Owner's equity is typically if you've put some money into the business to start. The rolling 12 months report will help you see trends.
Other Important Numbers
By looking at it month by month, you can see if something happened and ask yourself if it's right. Can you do it again? That kind of thing. You're looking for things in each section that are anomalies, things that are spikes or trends, something to help you understand how things are going.
To get the full content of today's topics, along with visual examples of these crucial sections of the balance sheet and how to read them, click to view Part 3 of our video blog series, What to Review on Your Balance Sheet. In next week's video, we will discuss one of bookskeep's newest client services, SmartStatements. I can't wait to tell you about it!
Interested in Profit First?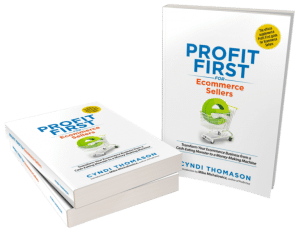 If your ecommerce business isn't where you'd like it to be in terms of profitability, check out my book, Profit First for Ecommerce Sellers. It answers important questions about how to implement Profit First in an ecommerce business. Take control of your money and your business, and put Profit First to work for you!
You can also sign up for the Profit First for Ecommerce Sellers Online Course. As a Mastery Level, Certified Profit First Professional, I will teach you why Profit First works so well for ecommerce businesses and the particular challenges for businesses that have physical products requiring inventory management. You will learn how your behavior drives your money management habits for your business and how you can set up your business bank accounts to work with your habits.
Check out all our ecommerce accounting and profit advising services here!