Many times, ecommerce sellers come to us asking for help with Profit First because they're having trouble managing money. However, after we do the Profit Assessment for their business, we find that what they actually need is help with cash flow planning. While Profit First is a great way to manage cash, it won't help you keep up with bills and where you're getting the money to pay them. If your business is going through a cash crisis, designing a 13-week rolling cash flow plan will be your best option.
Let's walk through a few methods for cash planning.
Profit First is a Long-Term Strategy
The Profit First method for cash management involves using separate bank accounts for certain purposes in order to divide up money for Operating Expenses, Profit, Taxes, Inventory, and Owner Pay. Through dividing up money in these accounts using the percentages that make sense for your needs, an understanding is created about these expenses coincide. With this, you are benefiting as a business owner and as an employee through your portion of profit and your Owner Pay account.
As you consistently try to eliminate unnecessary Op Expenses while working to grow your Profit account, you are making your business strive to be more efficient and more creative. When you have implemented Profit First, you'll be able to watch your account balances and have a better understanding of the health of your business.
Monthly Cash Flow Planning
The cash flow planning method can be used for several different lengths of time. Most frequently, I find that clients choose to use monthly cash projections. If you're wanting a general "budget" method, this can be helpful by using your expected expenses and income by categories on a month-by-month basis to project 3 – 6 months of future business.
This method will require diligent work in a spreadsheet or software tool for cash flow planning. You will be able to see if you are heading towards a cash shortage and have time to plan for it. However, unlike the Profit First method, cash flow planning does not set up a system that encourages building a fund for things like profit, owner pay, and inventory. Using Profit First, you can simply look at your bank accounts to know where you stand.
13-Week Cash Flow Plan
A better option is to use a cash flow plan on a 13-weel rolling basis. This will make sure your income and expenses are matching on a daily or weekly time frame. With ecommerce clients who may be in a tight spot when it comes to cash, a weekly plan allows you to look at estimated income and expenses each week and recognize where we spend more than we bring in.
Through this, you are able to see each individual expense and decide whether or not it's worth the money. This approach gives you the perspective needed to drop unnecessary expenses and prepare for dips in your cash on hand that are to come. Knowing this will help you create a plan to keep your cash positive. After 3 – 6 months of taming your cash shortage with a 13-week cash flow plan, you can get to work on Profit First and say goodbye to cash shortages in the future.
Whether you are trying to tackle a cash shortage or ready to take your Profit First, the bookskeep team is here! Reach out today for help with cash flow planning or Profit First coaching!
Interested in Profit First?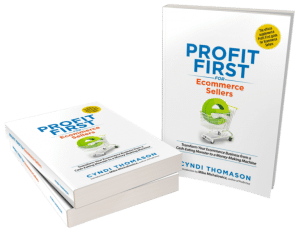 If your ecommerce business isn't where you'd like it to be in terms of profitability, check out my book, Profit First for Ecommerce Sellers. It answers important questions about how to implement Profit First in an ecommerce business. Take control of your money and your business, and put Profit First to work for you!
You can also sign up for the Profit First for Ecommerce Sellers Online Course. As a Mastery Level, Certified Profit First Professional, I will teach you why Profit First works so well for ecommerce businesses and the particular challenges for businesses that have physical products requiring inventory management. You will learn how your behavior drives your money management habits for your business and how you can set up your business bank accounts to work with your habits.
Check out all our ecommerce accounting and profit advising services here!
Do you know about Cyndi's new book?
Motherhood, Apple Pie and all that Happy Horseshit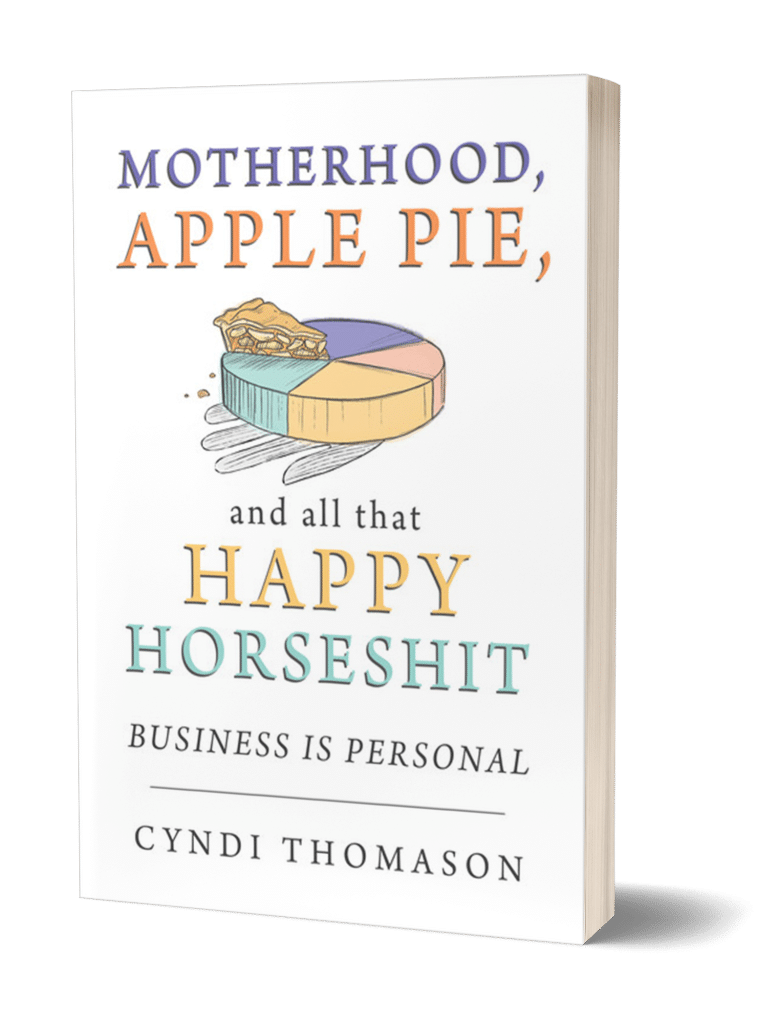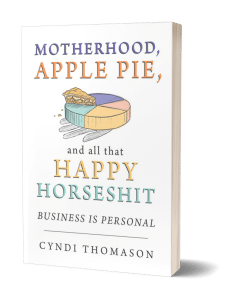 "You're about to discover the recipe for successful momma entrepreneurs."
– Mike Michalowicz, author of Profit First (and a wannabe momma entrepreneur)
Business is Personal
As a Mom, you can have it all and it's better when you do. Using your personal values to create the business of your dreams. By the end of this book you'll be confident in designing a business that supports your family and yourself.  Order Now!