If you need some extra cash for your e-commerce business, your local brick and mortar bank is no longer your only option. Online lenders offer quick access to cash to make payroll, purchase inventory, and grow your business.
There are many different lenders to choose from, if you are having a hard time deciding which is right for you, check out Fundera.

Fundera is an online marketplace that uses your business information to match you with the best lender for your needs. You can connect your accounting software to the Fundera app and they will help you analyze available credit options.  The service is free to you as they receive commissions from the lenders.
Here are three lenders and the pros and cons of utilizing them for your business.  While we much prefer the Profit First approach of reducing debt and becoming your own bank, there can be instances where you need cash quickly.  These lenders can help in those cases.

Fundbox has recently expanded their offering to include Direct Draw and Line of Credit Options.  This is in addition to "factoring-style" products they have offered in the past.  This new Line of Credit option is much better suited to E-commerce businesses that aren't invoicing customers.
Register, connect your bank account, and onboard within two minutes.  This is best for customers who need short term cash flow for quick acquisition.  For example, if you needed $1000 for a week your fee would be $8.  Why not just use a credit card?  Fundbox will not impact your FICO score and in a business where cash is king, you could pay your vendors early and receive your discount.

BlueVine takes an average of 12 hours to approve a line of credit and a few minutes to a day for an invoice factoring account. Once you're approved, you'll have access to funds within 24 hours. You get paid on Day 1 for invoices due in one to 12 weeks. BlueVine will advance you 85% of an invoice amount and then the rest of the sum when a customer pays you, minus fees. You can get approved even if your credit score is below 600, because they focus on your business's cash flow and on the creditworthiness of your customers.
But, with APRs of up to 62%, BlueVine's lines of credit and invoice factoring accounts are more expensive than many online term loans. This financing works as a short-term solution.  You will get penalized for nonpaying customers, and if a customer is late, BlueVine will give you an extra two weeks past the due date. If a customer fails to pay, you must pay back the invoice. There's a late fee of 3% after two weeks.

Kabbage is a good option for business owners who need cash immediately and don't mind paying higher rates for the speed. You simply connect a business checking account, bookkeeping software or a payment platform such as PayPal. You also can give the company access to your other accounts, such as QuickBooks, Xero, Etsy, Amazon, eBay or Square. The more accounts you link, the more information Kabbage can use to evaluate your application.  Although the company does check your credit history, it doesn't weigh your score as heavily as other factors or require a minimum credit score. Kabbage borrowers have personal credit scores of at least 500, but primarily considers data from the accounts you link, your average monthly revenue and the number of years you've been in business to make an initial lending decision, determine your credit limit and set your fees.
Alternatively, Kabbage's rates range from 24% to 99%, making its loans some of the more expensive small-business loans on the market. And Kabbage's fee structure is complicated. And although the company doesn't charge a prepayment penalty, you won't benefit much by repaying early.
Want to book an appointment? Contact us now!
Interested in Profit First?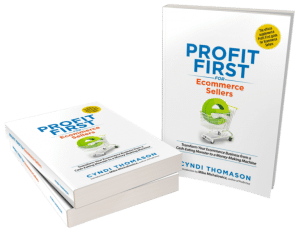 If your ecommerce business isn't where you'd like it to be in terms of profitability, check out my book, Profit First for Ecommerce Sellers. It answers important questions about how to implement Profit First in an ecommerce business. Take control of your money and your business, and put Profit First to work for you!
You can also sign up for the Profit First for Ecommerce Sellers Online Course. As a Mastery Level, Certified Profit First Professional, I will teach you why Profit First works so well for ecommerce businesses and the particular challenges for businesses that have physical products requiring inventory management. You will learn how your behavior drives your money management habits for your business and how you can set up your business bank accounts to work with your habits.
Check out all our ecommerce accounting and profit advising services here!
—————————