In the last blog of our SmartSell series, we're going to talk about the most important part of the program: who it's for. We've worked hard to ensure our clients get the most out of this service, and finding a good fit is one of the most important pieces. So, let's talk about who SmartSell is for.
The Right Fit
We've discussed the ins and outs of the program, but what makes SmartSell the right match for you? After evaluating some of the clients already using this service, we put together a list of specifics to help determine if you're ready for SmartSell! You could be a good fit if:
You're an ecommerce seller with over $1 million annual revenue on Amazon, Shopify and other online platforms, looking to sell your business in the next 3 to 24 months
You're a bookskeep SmartBooks client
You're ready to increase your understanding of the valuation of your business so that you will have confidence when negotiating a price
You are willing to stay focused on the direction set and take timely actions to support the direction
You want an accurate set of business financials that will meet the requirements for brokers and potential buyers
If this sounds like you, SmartSell could be just what you need!
SmartSell Goes the Extra Mile
Plenty of people sell their businesses on their own, without help, so why do you need SmartSell? Selling a business can be stressful, and while you can do it on your own, there are often pieces that end up falling through the cracks as you try to wear all your hats at once. With SmartSell, your data will stay up to date and accurate without having to constantly manage it yourself. You'll have everything you need to be confident and make solid decisions when you talk with brokers and buyers.
With our add-back analysis and estimated business valuations, you can also increase your potential sales price and ensure that you are rewarded for all the work you've done. With monthly SmartStatements and Exit Metrics also included, SmartSell works hard to ensure you understand the numbers, not just provide them. This is the extra effort that not only increases your confidence in the business, but a potential buyer's as well.
SmartSell will simplify the sales process for you and will give you more confidence in your decisions. When you're ready to sell, a partner in your corner can be just what you need. bookskeep is ready to help and be that partner during this very important, yet stressful, time in your business. Reach out today!
Interested in Profit First?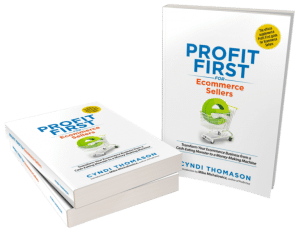 If your ecommerce business isn't where you'd like it to be in terms of profitability, check out my book, Profit First for Ecommerce Sellers. It answers important questions about how to implement Profit First in an ecommerce business. Take control of your money and your business, and put Profit First to work for you!
You can also sign up for the Profit First for Ecommerce Sellers Online Course. As a Mastery Level, Certified Profit First Professional, I will teach you why Profit First works so well for ecommerce businesses and the particular challenges for businesses that have physical products requiring inventory management. You will learn how your behavior drives your money management habits for your business and how you can set up your business bank accounts to work with your habits.
Check out all our ecommerce accounting and profit advising services here!
Do you know about Cyndi's new book?
Motherhood, Apple Pie, and all that Happy Horseshit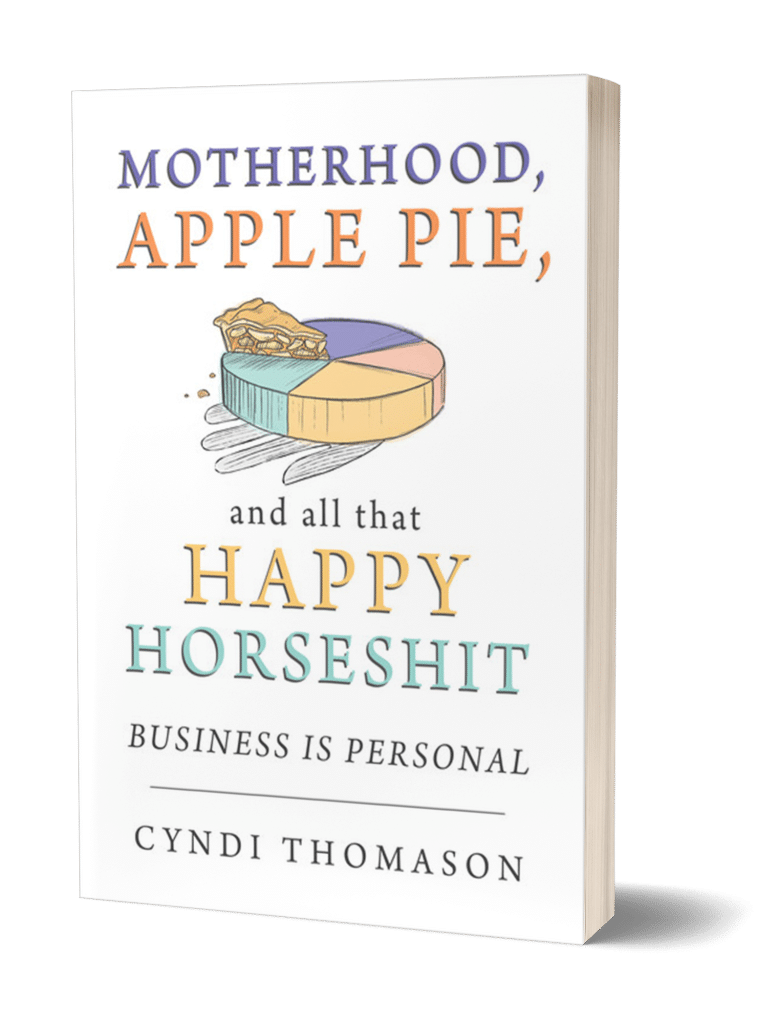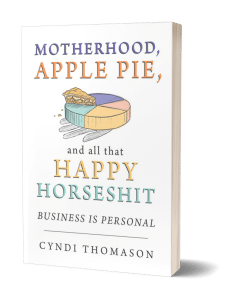 "You're about to discover the recipe for successful momma entrepreneurs."
– Mike Michalowicz, author of Profit First (and a wannabe momma entrepreneur)
Business is Personal
As a Mom, you can have it all and it's better when you do. Using your personal values to create the business of your dreams. By the end of this book you'll be confident in designing a business that supports your family and yourself.  Order Now!