We are thrilled that the "cat is out of the bag!" Last Friday, A2X Accounting announced their newest software product, A2X for Walmart. We have been beta testing the software for the last few months and we love it for all the same reasons we love the A2X for Amazon software. Once you connect A2X to the Walmart Seller Center and to your accounting system, you map the integration and then let it do the heavy lifting for recording your deposits. Here is a little bit more from their product release email.
About A2X for Walmart
A2X for Walmart imports your Walmart settlements and posts them to your accounting system in a way that makes it easy to reconcile the sales, refunds, discounts taxes and shipping against the cash 

receipts.
A2X for Walmart has several benefits for accounting:
Reconciles Walmart settlements perfectly

Automatically imports accurate Walmart data

Scales to support 1000's of daily orders without sending 1000's of individual invoices to the accounting system

A2X also supports Amazon and Shopify, you can connect all of your marketplaces to a single accounting system for multi-channel sellers.

Supports multi-currency sellers and multiple tax rates
Ready to get started?
Check out the A2X article here for step by step instructions. And if you want to know more about why we are committed to using A2X here at bookskeep, read my recent blog.
It's always a pleasure to work with A2X Accounting as they launch products because they ensure product quality from the start. If you're a bookskeep client selling on Walmart, chances are your account is already in place as we tested the product. If it's not and you want to get started, contact us today and we'll get things rolling. 
Interested in Profit First for Ecommerce bookkeeping?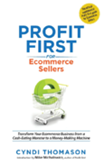 If your ecommerce business isn't where you'd like it to be in terms of profitability, check out my book, Profit First for Ecommerce Sellers. It answers important questions about how to implement Profit First in an ecommerce business. Take control of your money and your business, and put Profit First to work for you!
You can also sign up for the Profit First for Ecommerce Sellers Online Course. As a Mastery Level, Certified Profit First Professional, I will teach you why Profit First works so well for ecommerce businesses and the particular challenges for businesses that have physical products requiring inventory management. You will learn how your behavior drives your money management habits for your business and how you can set up your business bank accounts to work with your habits. Contact bookskeep today to learn more about ecommerce accounting and bookkeeping.