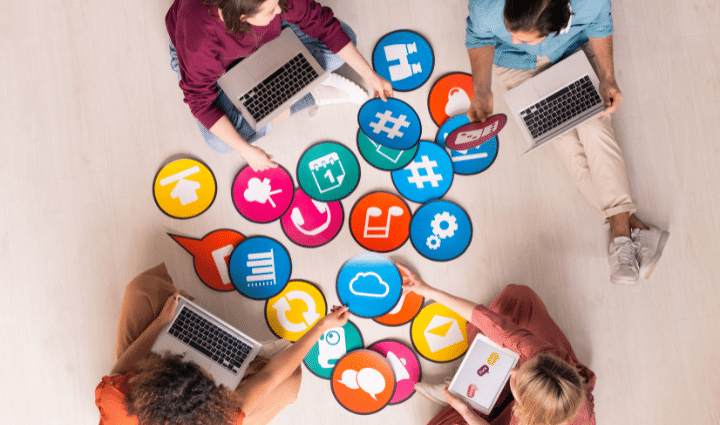 As an ecommerce business owner, you probably spend a lot of time on your computer (I know I do). So, what is your tech stack and is it working for you? At bookskeep, we are experts on the software and accounting systems that you need to keep a business running smoothly, and we want to recommend the basics to you!
To have all the basic functions of an ecommerce business covered, we recommend you have:
Accounting Software Platform
Ecommerce Platform Integration
Inventory Management
Payroll Processing
Sales Tax Filing
Banking
Accounting Software Platform
First of all, you need an accounting platform. There are many out there now that claim to support ecommerce, but what does that really mean? As an ecommerce business, you need a platform that has a solid general ledger package that will produce a Profit and Loss and Balance Sheet. While most people focus on their Profit and Loss, the Balance Sheet is the key to ensuring that the P&L is accurate because of reconciliations back to your bank, credit cards, and lending institutions.
Accurate statements are needed so you can have confidence in your business performance to make good decisions. They are also vital when it comes to preparing your taxes and selling your business. Just this week I met with a business owner who has a letter of intent to sell their business, but the books don't match their taxes.
The buyer's bank is now nervous, and the owner was asking us to do 2 years of bookkeeping as soon as possible so the sale can go through. This will be a costly undertaking and unfortunately, it weakens their negotiating position. Financials are critical to your business health, so make sure you are tending to this important function.
bookskeep's recommendation: QuickBooks Online (QBO), Xero
Ecommerce Platform Integration
Ecommerce Sales Platforms like Amazon, Shopify, Walmart, eBay, etc. provide the details of your sales and inventory in their ecosystem. In the accounting world, this is like a "subsidiary" ledger. This information is vital to be included in your Accounting System at a summary level. It is a bit overwhelming, as you grow and get numerous transactions daily, to attempt to add the transactions into your accounting system.
This is where a system to bring the summarized accounting data from your sales platform over to your accounting system can save you a tremendous amount of time. There are also a few software tools that provide this service, and you want to ensure that they can demonstrate accurate mapping and financial traceability back to your settlement reports. Your bank deposits and the year end 1099's from the sales platforms need to match the data you bring into your books.
bookskeep's recommendation: A2X
Inventory Management
Tracking sales is fun, but to make those sales you must have inventory. Tracking inventory from an accounting perspective is such a huge challenge because it typically becomes yours when it ships, then it spends time in transit, and it may sit in a warehouse before shipping to Amazon or the buyer or get lost or returned from customers damaged. There is a lot of movement and specific accounting rules.
Many clients try to manage inventory using spreadsheets, and that can work up to a point. However, as you grow sales or your products, you will likely need to forecast inventory needs, generate PO's track costs, etc. Some products also provide extra services such as listing your product on Amazon or tracking products between various ecommerce platforms and your warehouse.
bookskeep's recommendation: Inventory Lab, Cin7, SoStocked
Payroll
Depending on your business structure, you may need to pay yourself a "salary". LLCs with an S election, for example, are required to do payroll. Your tax preparer can help you with this or you can use an online payroll service. As a Profit First (Cash Flow Management) enthusiast, I want to ensure you are paying yourself as well.
As you grow, you will also need to pay your employees and contractors. Keeping up with payroll regulations is never fun, so we recommend a full-service online solution, so you don't have payroll headaches.
bookskeep's recommendation: Gusto
Sales Tax Filing
Now that Amazon is required to file as a marketplace facilitator, you will likely not have much to worry about if you only sell on Amazon. However, if you have sales on Shopify, you need a solution for registering and filing in the states where you have Nexus. Again, there are automated solutions that will integrate with your sales platforms and help you stay compliant with the sales tax requirements.
bookskeep's recommendation: Tax Jar
Banking
Business banking can be a chore. Getting your accounts set up and paying bills is a bit like a trip to the dentist, and many banks add fees for every account that you open. Every new service is a chance to charge you more. Profit First requires multiple bank accounts to help you understand your cash flow. We're trying to hold onto profits, not spend all of it on bank fees.
To make your accounting easier, you want a bank that connects with QuickBooks Online or Xero so you can automatically import all your banking activity. This will ensure that you don't waste time doing data entry.
bookskeep's recommendation: Relay, the Official Bank of Profit First
The tech world changes regularly just like the world of ecommerce. Luckily, double entry bookkeeping was invented in 1494, so it's pretty well sorted out at this point. We regularly investigate and test the latest tech to ensure that we can help our clients as efficiently as possible. Our recommendations are all personally used by us and will ensure that you are operating efficiently and prepared for the day you sell your business.
If you are ready to set up your software stack, we can help! Reach out to the bookskeep team and get started the right way today!
Interested in Profit First?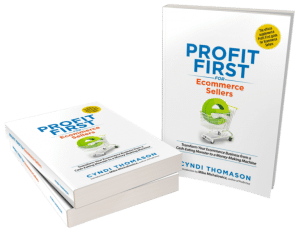 If your ecommerce business isn't where you'd like it to be in terms of profitability, check out my book, Profit First for Ecommerce Sellers. It answers important questions about how to implement Profit First in an ecommerce business. Take control of your money and your business, and put Profit First to work for you!
You can also sign up for the Profit First for Ecommerce Sellers Online Course. As a Mastery Level, Certified Profit First Professional, I will teach you why Profit First works so well for ecommerce businesses and the particular challenges for businesses that have physical products requiring inventory management. You will learn how your behavior drives your money management habits for your business and how you can set up your business bank accounts to work with your habits.
Check out all our ecommerce accounting and profit advising services here!
Get Cyndi's new book!
Motherhood, Apple Pie, and all that Happy Horseshit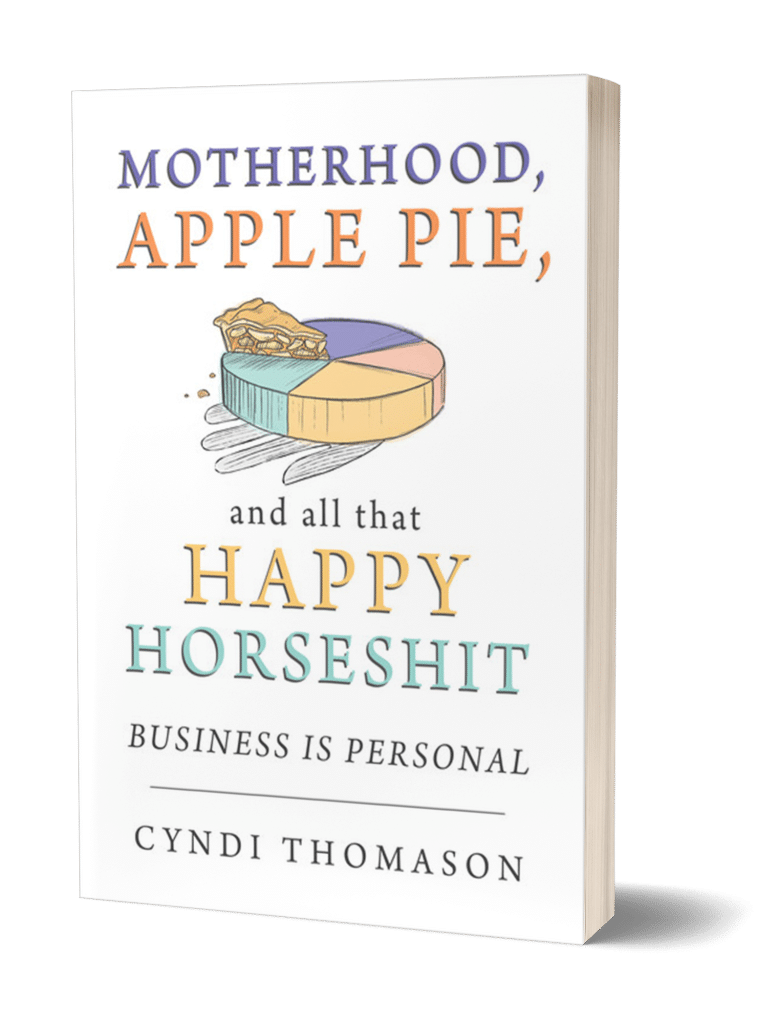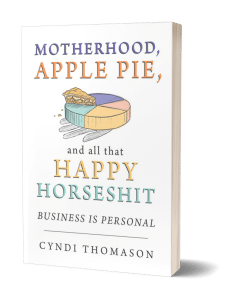 "You're about to discover the recipe for successful momma entrepreneurs."
– Mike Michalowicz, author of Profit First (and a wannabe momma entrepreneur)
Business is Personal
As a Mom, you can have it all and it's better when you do. Using your personal values to create the business of your dreams. By the end of this book, you'll be confident in designing a business that supports your family and yourself.  Order Now!