It's been a few months since we talked about the Paycheck Protection Program (PPP) loans that many of you received earlier in the year. We have been monitoring the guidance issued by the Treasury Department and the Small Business Administration (SBA) and trying to keep tabs on the "talk" that Congress may offer loan forgiveness for loans up to $150,000. With so much attention given to the election, not much has happened and we are still in a wait-and-see scenario.
SBA Approving Forgiveness Applications
There was a report early last month that the SBA had begun approving PPP forgiveness applications and remitting forgiveness payments to PPP lenders for PPP borrowers on October 2, 2020. SBA will continue to process all PPP forgiveness applications in an expeditious manner.
IFR Simplifies Forgiveness Process
They also created an Interim Final Rule (IFR) simplifying forgiveness for loans of $50,000 or less. The IFR streamlines the forgiveness process for these smaller loans because they will not be required to perform potentially complicated FTE or salary reduction calculations. Borrowers of $50,000 or less will still have to make some certifications and provide documentation to the lender for payroll and non-payroll costs. Please check with your lender if your loan amount was below $50,000.
Forms, Instructions and IFR
Click here to view the simpler loan forgiveness application.
Click here to view the instructions for completing the simpler loan forgiveness application.
Click here to view the Interim Final Rule on the simpler forgiveness process for loans of $50,000 or less.
We are still watching for any announcements in the coming weeks now that the election is over…or almost over.
Please let us know if you have any questions about your loans or how they are recorded as we approach year-end.
Want to book an appointment? Contact us now!
Interested in Profit First for Ecommerce Bookkeeping?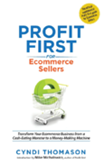 If your ecommerce business isn't where you'd like it to be in terms of profitability, check out my book, Profit First for Ecommerce Sellers. It answers important questions about how to implement Profit First in an ecommerce business. Take control of your money and your business, and put Profit First to work for you!
You can also sign up for the Profit First for Ecommerce Sellers Online Course. As a Mastery Level, Certified Profit First Professional, I will teach you why Profit First works so well for ecommerce businesses and the particular challenges for businesses that have physical products requiring inventory management. You will learn how your behavior drives your money management habits for your business and how you can set up your business bank accounts to work with your habits. Contact bookskeep today to learn more about ecommerce accounting and bookkeeping.