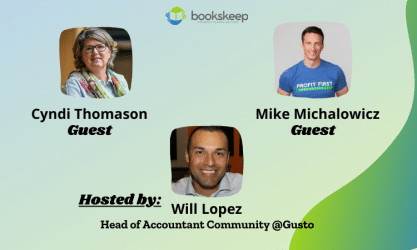 Event date: March 3, 2021
Posted date: March 4, 2021
Host: Will Lopez, Gusto
Guests: Mike Michalowicz and Cyndi Thomason
Link:  https://www.youtube.com/watch?app=desktop&v=84COrzfeVG4
Related bookskeep blog: /blog/whatever-you-do-do-it-with-gusto
A Note from Cyndi Thomason
As an ecommerce business owner, you want to know "How to Achieve Permanent Profitability Within the Next 24 Hours." In this webinar hosted by Gusto, guests Mike Michalowicz and I discuss how implementing Profit First in your business can get you there sooner than you would otherwise. Profit First puts the right processes in place to help you experience the growth and profitability you dream about!
Gusto is the all-in-one platform for payroll and employee benefits, health insurance, human resources, and much more. It is an excellent resource for ecommerce and other small businesses who need guidance, assistance and tools for managing a successful business.
About bookskeep
Led by Cyndi Thomason, bookskeep is a virtual company offering bookkeeping and accounting services for E-Commerce businesses, profit advising and a host of Profit First products to ecommerce businesses. Cyndi Thomason is a thought leader in ecommerce accounting. She is a Mastery Level Certified Profit First Professional, Certified Fix This Next Coach, Profit First speaker, best-selling author and founder/president of bookskeep. With a virtual team located across the United States, Cyndi and her team provide services to ecommerce clients worldwide.