At bookskeep, one of our core values is being data driven. We know you need accurate data to run your business successfully. That's why we care so much about our data. Here are a couple of data points and trends we monitor to ensure that we are delivering on our promises to you: 1) delivering financials statements by the 15th of each month; and 2) our Net Promoter Score.
What Do Ecommerce Accounting Clients Want?
As we talk with clients and potential clients, we hear over and over again that they are looking for accurate data, as soon as possible after month end, on a consistent basis, without having to beg for it. In 2018, we began monitoring the percent of client financials that are issued by the 15th of each month and the reasons some are not out–either because of an issue with bookskeep or because we don't have data from our clients. At first glance, it may seem that when we are missing data generated by our client, we should not count this in our metrics. However, this indicates to us an opportunity to work with clients to improve their processes. Dialing in their processes makes everything smoother for them and us.
Here is our data over the last 2 years:
| | | |
| --- | --- | --- |
| 2018 | | 85% |
| 2019 | | 84% |
| 2020 YTD | | 84% |
As you can see, our processes have been generating pretty consistent results as the number of clients and team members have grown together.
Improving Processes to Improve Performance
In the past 4 months, we have taken a deep look at our processes and ways to refine them. We looked for ways to do preliminary work before the end of the month. Our team looked for opportunities to work with our clients to gather all the information needed to be ready to close their books as soon as the statements are issued from the financial institutions. We made changes in our internal communications to remove distractions. The teams have looked for ways to help each other out when someone is delayed.
We have worked on how to create weekly plans to schedule blocks of time to make progress. We have looked for ways to use digital tools rather than paper. These are just a sampling of the improvements made that have yielded great results. The last four months, we have moved our average to 91%! Last month we were at 97%! We are so proud of the results from the focused efforts of our team members!
Net Promoter Score
The Net Promoter Score is another data point that we started monitoring in July 2019. This is a newer metric for us, but it allows us to compare ourselves to the accounting industry and to other industries in general. We now have enough data to share and I'm proud to report our Net Promoter Score is 65%. Compared to the accounting industry score of 23% for 2020, we feel like we are doing a lot right.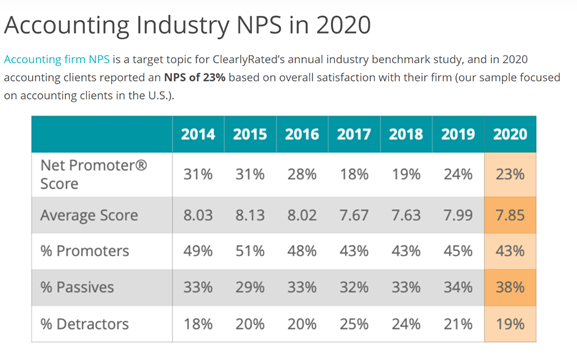 Clearly Rated also shared service leaders across industries in this chart. It's great to have a way to compare our small business performance to that of the large well-known brands.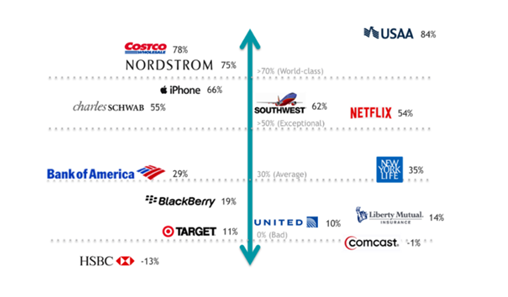 Core Values Help Us Help You
As you can see, values don't just hang on a plaque in my office. They are what govern decisions we make for the business. Caring for our employees and clients, and using data to make decisions to know we're heading in the right direction are two ways our values come to life every day.
Interested in Profit First for Ecommerce Bookkeeping?
If your ecommerce business isn't where you'd like it to be in terms of profitability, check out my book, Profit First for Ecommerce Sellers. It answers important questions about how to implement Profit First in an ecommerce business. Take control of your money and your business, and put Profit First to work for you!
You can also sign up for the Profit First for Ecommerce Sellers Online Course. As a Mastery Level, Certified Profit First Professional, I will teach you why Profit First works so well for ecommerce businesses and the particular challenges for businesses that have physical products requiring inventory management. You will learn how your behavior drives your money management habits for your business and how you can set up your business bank accounts to work with your habits. Contact bookskeep today to learn more about ecommerce accounting and bookkeeping.