Finally!  Two of my favorite things got together like bacon and eggs and chocolate and peanut butter!  Relay and Profit First have been critical to my business for many years.  I love how my cash flow hums with Profit First but juggling the banks and their fees made me crazy.  
When Yousef West introduced Relay to me years ago, I signed up immediately.
I loved the overall fresh technology interface designed around solid banking foundations. I can generate virtual and physical credit cards as I need them and manage them just as easily by changing spending limits and even discontinuing them online. And love how we can work in bookskeep client accounts under our own portal with the appropriate permissions in a way that is efficient for both our clients and us.
Now there is even more to love because Relay not only developed a relationship with Profit First Professionals, but they also listened to how they could make their great product work even better. Learn more below and join us next Wednesday, March 29th as they demonstrate how great it is to work with Relay, the Profit First banking platform. 
It Just Makes Sense

 
We've talked about it for the last two weeks; Relay is the perfect Profit First Partner. Multiple no-fee checking accounts, percentage-based transfers, and the newest auto-transfer rule feature combined with the Profit First methodology make a cash management setup that is the stuff of dreams.  
You can create all the Profit First accounts you need completely online without having to argue with the bank about why you need multiple checking accounts. AND Relay takes care of the math for you with their percentage-based transfers! You no longer have to crunch the numbers to figure up the percentages for your allocations, Relay will do it for you.  
Most exciting to me is the new auto-transfer rules feature available for Relay 2.0 customers. Not only do you not have to do the math, but you don't even have to make those transfers anymore, Relay will take care of it! Simply choose your account and set the max balance, schedule a daily, weekly, twice-monthly, or monthly transfer, set up your percentages and account destinations, and watch the money move without having to lift a finger.  
Better Collaboration = Better Service

 
The structure of the Relay Platform sets everyone up for success when it comes to working together. We, as your accountant, have the ultimate view of everything we need to see without actually having access to accounts.  
Relay is also now a Profit First Certified Firm with two of their own team members becoming newly certified PFPs! With in-house expertise available, you'll now have an even richer and deeper Profit First experience when you work with Relay.  
As you can probably tell, I'm a little excited about this partnership and can't wait to start using the new features for myself and with clients. Relay's dedication to providing a great online banking experience and a new and improved Profit First experience is one of the main reasons why I will always love Relay for mine and my clients' business.  
If you're interested in seeing how Relay works, click here to watch a short demo and learn more!
Interested in Profit First?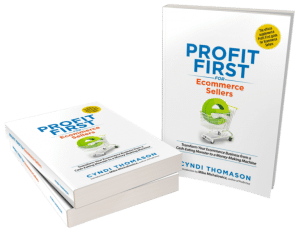 If your ecommerce business isn't where you'd like it to be in terms of profitability, check out my book, Profit First for Ecommerce Sellers. It answers important questions about how to implement Profit First in an ecommerce business. Take control of your money and your business, and put Profit First to work for you!
You can also sign up for the Profit First for Ecommerce Sellers Online Course. As a Mastery Level, Certified Profit First Professional, I will teach you why Profit First works so well for ecommerce businesses and the particular challenges for businesses that have physical products requiring inventory management. You will learn how your behavior drives your money management habits for your business and how you can set up your business bank accounts to work with your habits.
Check out all our ecommerce accounting and profit advising services here!
Do you know about Cyndi's new book?
Motherhood, Apple Pie, and all that Happy Horseshit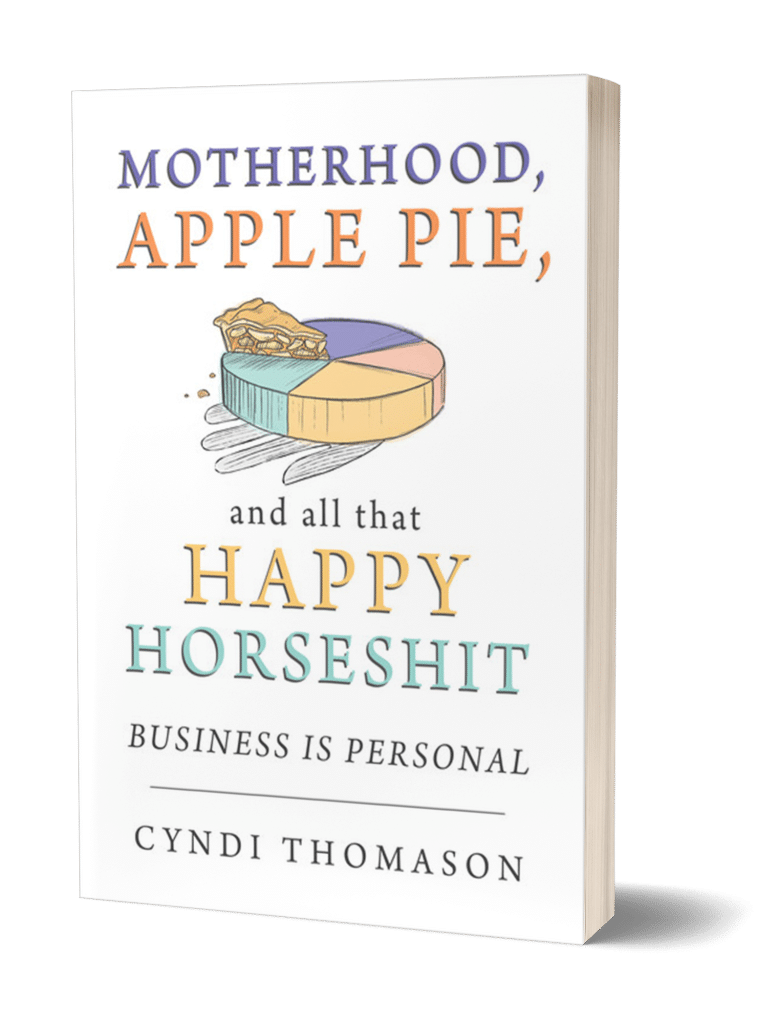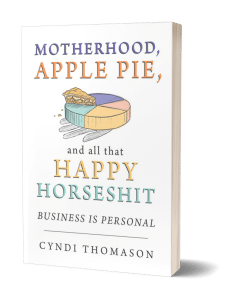 "You're about to discover the recipe for successful momma entrepreneurs."
– Mike Michalowicz, author of Profit First (and a wannabe momma entrepreneur)
Business is Personal
As a Mom, you can have it all and it's better when you do. Using your personal values to create the business of your dreams. By the end of this book you'll be confident in designing a business that supports your family and yourself.  Order Now!