Kevin Rizer of Emmy's Best Pet Product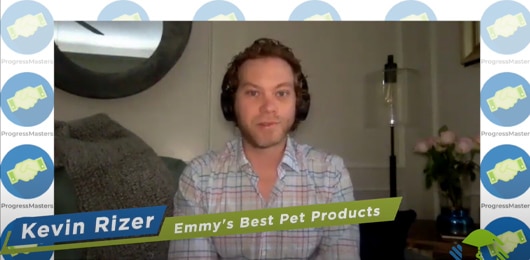 Kevin (00:05):
So I first heard about profit first through a mutual friend and someone that said, hey there's a lady named Cindy Thomason and she just wrote a book that you need to read. I hopped online. I ordered the book, I read it in one sitting and I thought immediately, I've got to get to know Cindy and her whole system. This sounds like something that could really, really benefit my business and the progress masters is, is really something that helps you to take the knowledge that you're learning from Cindy, from the books, keep team from the profit first book and system, and actually apply it and put it into practice. So for me, the benefits are accountability. The ability to network with other business owners, many of whom are having the same challenges, the same opportunities that we face and getting to help each other and support each other. As we implement the systems that are really changing to make our businesses more profitable.
Kevin (01:05):
So when Jeremy sent over the graphic reporting for the first time I was blown away I had never seen that level of detail presented to me in terms of the numbers for our business, all of the, the charts, the graphs, the historical information on down to just the red or green arrows and thumbs up signs you know, throughout the data and the presentation is just an amazing way. Being a visual learner myself, it's really helpful to be able to not just have to pour over spreadsheets but to actually see those numbers kind of pop off the screen and, and began to come to life, it really informs me in a way that, that I never thought possible quite frankly, and, and allows me to bake make better decisions based on that data. Yeah. If there's someone that's considering working with folks, keep, I would highly recommend it. I've worked with a number of different accounting firms and bookkeepers over the years. And by far the books keep experience that I have had, and the impact that it's had on my business
Kevin (02:22):
Has been the best all of them by a long shot. So I would say, go for it.
Start making data-driven decisions and become more profitable today.